Bewitched has been voted one of the top 50 shows of all time and we take a look at some of the Bewitched collectibles, Bewitched merchandise and Bewitched toys that have appeared over the years. We also look at how Bewitched was a show that also tackled issues such as feminism and racism, and its influence on modern culture.
The Concept of Bewitched TV Show
The Bewitched TV series follows the adventures of Samantha Stephens, a young witch who is married to a mortal man named Darrin. The couple live in the suburbs with their two children, Tabitha (first appearing in 1966) and Adam (first appearing in 1969). Throughout the series, Samantha struggles to keep her magical powers hidden from her family and friends, as she knows that Darrin does not approve of witchcraft. However, her well-meaning meddling often leads to hilarious hijinks and chaos. For eight seasons, from 1964 to 1972, The Bewitched TV series charmed audiences with its mix of comedy and fantasy, making it one of the most beloved shows of its era.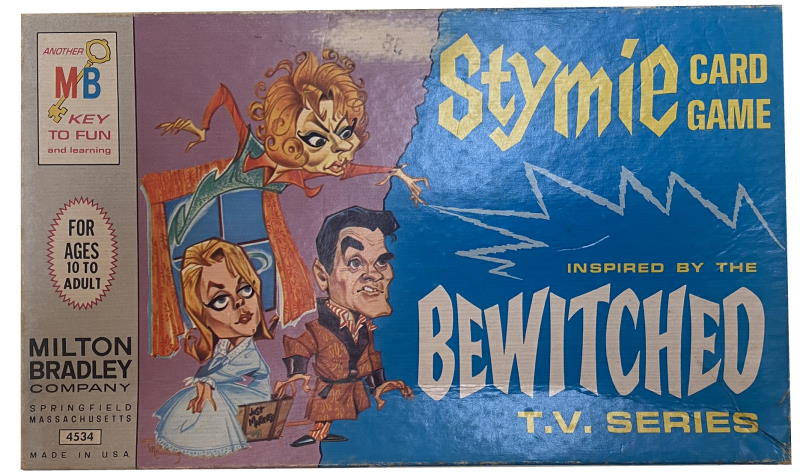 The Characters
The series starred Elizabeth Montgomery as Samantha Stephens, a young witch who marrying a mortal, Darrin Stephens (played by Dick York and later Dick Sargent), and tries to lead the life of a typical suburban housewife. The show also featured Agnes Moorehead as Endora, Samantha's Mother; David White as Larry Tate, Darrin's boss; Alice Pearce (later Sandra Gould) as Gladys Kravitz, the nosy neighbor; Bernard Fox as Dr. Bombay, the witch doctor; Erin Murphy as Tabitha Stephens, the couple's daughter; Mervyn Eddys as Sam Francis "Sam" Blake, Darrin's advertising agency partner; and Paul Lynde as Uncle Arthur.
How the Show was Created
Bewitched was created by screenwriter Sol Saks (1910–2011). While the concept of a witch living among mortals was not new (I Married a Witch, anyone?), the show's creator Sal Saks drew heavily from this influence when creating Bewitched. This film, which was released in 1942, tells the story of a young witch who Falls in love with a mortal man and tries to live a normal life.
Another influence for the creation of the show was the play and film Bell, Book and Candle, which tells the story of a witch who falls in love with a mortal man.
Sol Saks received credit as the creator of the show; he wrote the pilot of Bewitched but was not involved with the show after the pilot.
The show's depiction of women and minorities
The Bewitched TV series was revolutionary for its depiction of women. In a time when most television shows portrayed women as homemakers and wives, Bewitched showed women as independent and capable. The show's main character, Samantha, was a working woman who used her magical powers to make her life easier. She was also a mother, but she was never shown struggling to balance work and family life. Instead, she was always shown as competent and able to handle whatever came her way. The show's depiction of women as strong and independent paved the way for future generations of television shows that would show women in a more positive light.
In 1963 Betty Friedan published The Feminine Mystique and in 1964 published a two-part essay Television and the Feminine Mystique for TV Guide. Endora, in the show uses Friedan language and concepts to criticise the role of women as just housewives.
Elizabeth Montgomery said that the Episode Sisters at Heart was her favourite. It was very important episode that tackled racism head on and show inter-racial frienships as positive. The episode is equally imporessive as it was written by 26 African-American students from a tenth grade English class at Jefferson High School.
Sisters at Heart – The narrative follows Lisa Wilson, an African-American girl, as she visits her friend Tabitha Stephens, a white girl. Meanwhile, Tabitha's father Darrin Stephens, who works at an advertising agency, fails to land a million-dollar account with toy company owner Mr. Brockway because Mr. Brockway is racist and incorrectly believes Darrin to be married to Lisa's mother Dorothy. In an attempt to convince Mr. Brockway to overcome his bigotry, Darrin's wife Samantha, who is a witch, casts a spell on Mr. Brockway so he sees everyone, including himself, as having black skin.
Bewitched collectibles and merchandise over the years
Bewitched was very popular finishing as the second-rated show in America during its debut season in 1964, and staying in the top ten for its first three seasons, and ranking in eleventh place for both seasons four and five. The show continues to be seen throughout the world in syndication and on recorded media.
As a result, there was a lot of merchandise marketed around the show. Some of the most popular items were coloring books, cookie jars, mugs, lunch boxes, comic books, board games, jigsaw puzzles dolls, and dolls / action figures.
One of the most popular Bewitched collectibles is the doll that was made by Ideal in the 1965. The doll was based on the character of Samantha Stephens and depicted her in a red dress, with a red witch's hat and with a broomstick. It was promoted as Samantha as portrayed by Elizabeth Montgomery THE BEWITCHED POSING DOLL … star of the the ABC hit TV show  BEWITCHED. Boxed examples are valued at $1,500 to $2,000.
There is another doll from the series that is even more collectible the ' Tabitha The Bewitched Baby ' doll. The Tabitha The Bewitched Baby doll can sell from $2,000 to $3,000. The box is very cute and features Samantha, Darrin and Endora peering down on baby Tabitha.
Games based on the series include Bewitched by Game Gems and The Bewitched Stymie Card Game from Milton Bradley.
Funko POP! have released two dolls based of Samantha and Endora.