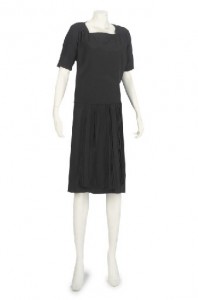 As an obsessive follower of fashion one of my favourite pastimes is spending copious amounts of money in the designer shops lining London's smartest streets. Just recently I caught the train home armed with bags bearing the names of Gucci and Lulu Guinness, but if I'd had enough money then the bag that I would have definitely carried home would have been blazoned with the word "Chanel".
Pictured: Gabrielle Chanel, A Little Black Dress, Circa 1926 – classic silk dress in tunic form, with integral overblouse which ties at back waist, short sleeves and square neck, finely pleated apron panel, labelled Gabrielle Chanel Paris, numbered '2924'.  Sold at Christies, London, Nov 2007 for £875 ($1,806).
Born Gabrielle Chanel on 19th August 1883 in Saumur, France, into a poverty stricken family, she spent most of her childhood growing up in the austere area of Auvergne. Chanel's mother was a sickly woman and her father a philanderer. Life became even harder for Chanel at the age of twelve when after her mother's death from Tuberculosis she was abandoned at an orphanage by her father.


Pictured: A Chanel Wedding Gown And Train 1930 – Composed of a dress with elaborately gored and top stitched bodice and skirts, the detachable train appliqué with cream velvet flowers, fixing to shoulder with hooks and eyes. Labelled CHANEL, with couture number '99409'  Sold at Christies, London, Nov 2013 for £40,000 ($63,520).
Chanel's passion for fashion started whilst at a boarding school in Notre Dame; she studied the other girls clothes and fabrics, then learnt to sew. After leaving school she found employment in a lingerie shop and took a second job with a tailor, but her biggest ambition was to leave the life of poverty behind. Intent on seeking wealth without marriage she knew that rich men would shower her with gifts and introduce a grandeur way of life. This dream became reality when Chanel found work as a cabaret singer in a bar at night. She sang two songs and one of these was called "Who has seen Coco". This became her signature tune and gave her both a new name and the start of a relationship with Etienne Balsan, a wealthy man whose family money was made from textile manufacturing.
Life as a mistress was a little uncomfortable at first, as she had a boyish figure and short hair, which was very different to the other mistresses who wore elaborate, corseted dresses and knew how to conduct themselves properly. Chanel decided to adopt her own unique style by wearing men's clothing, and although this look was a little strange compared to other elegant women Chanel felt more comfortable and continued to dress in this manner. It was during this period that she started to design her own range of hats; this was the first stepping-stone of her successful career. Women craved to wear her millinery creations and it wasn't long before she was recognised as an important hat designer, forcing her to open a workshop in 1909.
Chanel's first shop was opened in Paris in 1910, and by 1912 she had left Etienne Balsan for Boy Capel, a successful businessman. Capel took a personal interest in Chanel and backed her business financially, thus encouraging her to fulfil her dreams. She opened a boutique in Deauville in 1913 and then began to expand by designing clothing as well as hats. Using hand knitted fabrics she created jackets and skirts. These fresh new designs became an instant hit with the wealthier women, liberating them from their corsets, thus liberating their minds. Chanel wanted women to no longer be reliant on men but to think for themselves and saw that this could happen through the clothes that they wore. In 1915 Chanel's business was thriving and she was able to open a second house of couture in Biarritz. Completely selfsufficient she no longer needed Boy Capel's finances but he was the one true love of her life. Chanel was devastated; when in 1919 tragedy hit; Boy Capel was killed in a car crash, and once again she felt abandoned, coping with the grief by throwing herself into work.
It was in 1921 when Chanel's signature scent first appeared on the market. She asked Ernest Beaux, a perfumer, to create an innovative perfume and the result was a fresh smell that lasted longer than any other scent. She set about designing packaging that would capture what the name "Chanel" was all about; clean, crisp and modern. The perfume was housed in a square shaped plain bottle and she did what no other designer had done before by attaching her own name to the scent, "Chanel No. 5". It was then launched at a Spring Fair on the 5th day of the month. "Chanel No. 5" has become one of the world's biggest selling scents and the earlier bottles are highly sought after in collecting circles.
Another popular area of Chanel collecting is costume jewellery. She was inspired by her own collection of precious stones to create a range of costume jewellery that would complement her clothing ranges. It was sold in a Chanel box and materials used varied from enamel and glass to crystal rhinestones and faux pearls. Some of the rarer pieces are worth thousands of pounds, such as a Peacock pin, set with poured coloured glass and clear crystal rhinestones, produced in the 1930s. This can command £1,665-£2,335. Another rare pin is the enamelled frog brooch dating from 1927, again worth in the region of £1,500-£2,000. If your pocket will not stretch to such high sums, then you can find more affordable pieces of Chanel jewellery on the market. Look for pins in the form of the Maltese Cross which was a signature motif for Chanel. Unfortunately this design is not as popular with contemporary collectors as some of the other designs, so a pin would only cost £80-£100, but it's a good place to start if you want to begin a collection of Chanel jewellery.
Coco Chanel continued to make classic sophisticated designs right up until 1939 when she made the decision to close her shop and studio. However, for whatever reason, some fifteen years later in 1954 she made a comeback and continued to work up until her death in January 1971. A pioneer of female fashion in what was once a male dominated industry, Gabrielle Coco Chanel was a woman that knew what she wanted and was never ever afraid to be herself. She was responsible for revolutionising the word chic, creating timeless classic designs that are still worn and enjoyed by thousands of women today.
FACTS
The famous "little black dress" was born in 1926 when Chanel declared that black was the only colour to be seen in.
She was the first to create Pyjamas for women in 1918. Chanel worked with Hollywood stars such as Katherine Hepburn and Elizabeth Taylor.
She had a love affair with a Nazi officer and was exiled to Switzerland in 1945.
Karl Lagerfeld has been responsible for the haute couture empire known as Chanel since 1984.