In this highly digital age board games are taking more and more prevalence for spending interactive time with family and friends.
From this we seem to be digging those family board games we still own from the seventies and eighties out of the cupboards, blowing off the dust and this gets us thinking…..
Is this worth selling or playing? What is mine worth? How do I get a valuation? Is mine collectible?
One example is the game consisting of the original usual suspects. Colonel Mustard, the Reverend Mr Green, Mrs Peacock, Miss Scarlett, Professor Plum and the (apparently) controversial Mrs White. She was removed from the game in 2016 after it was claimed that having a housekeeper was a 'dated idea' and was replaced with Dr Orchid. The artwork was also updated to a more cartoon style.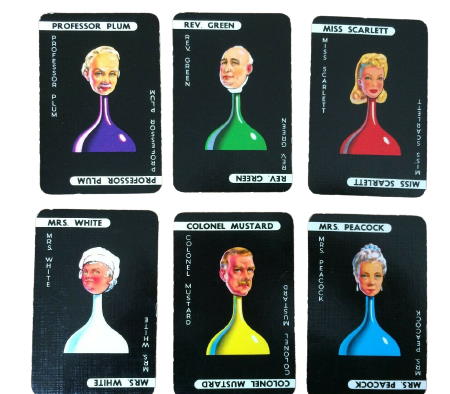 An original 1949 edition of Cluedo, the popular crime deduction game can sell for around £150.
But wait, it would have to be unplayed !! Unplayed??
Who, genuinely in 1949 was thinking that this brand new board game would be worth buying, taking home and NOT playing with it in the hope that in seventy years time it will be something of value?
Surely these games are there to be played with? A pre loved copy of a board game has more character having stood the test of time.
Write in the comments below if you are a board game collector and own the games to play or to simply to have bragging rights that you own a much sought after copy.
As a board game collector myself, what interests me more than anything is owning an original copy of a game that has been played with since it was originally produced. The idea that I am now sitting with my family and friends playing a game which was handled and played when it was very first produced? What are your thoughts on this?
When looking for an original copy of Cluedo don't forget that the black and white cover thought to be the first edition is not actually the case. This could affect your expected valuation.
Instead you would be looking for a bold, red thumb print under the magnifying glass as in the above picture.
This changed to the simple black and white as the additional printing layer of the blood red was far too costly to keep up with the demand for the game.
Over the years the art has changed significantly on the box and in the game.
From the late 1950s into the 1960s it would look like this.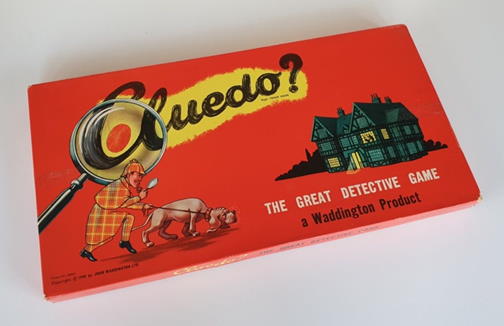 I'm in my mid forties and I remember this art from the late 1960s through the 1970s.
More recently Cluedo looks like this.
In recent years the game has been franchised into versions from films, specific areas (similar to Monopoly), Disney, comics and more. These include Harry Potter, Nightmare Before Christmas, Charlie and the Chocolate Factory, Ricky and Morty, Sherlock and even a Newcastle and Gateshead edition. These editions are more niche and limited and have the potential to increase in the value.
And remember that in the United States the game has simply been called Clue.
There is even a spin off film starring Tim Curry which I am a huge fan of.
Our research shows that certain online auction sites have varying prices. Why?Because there are two sides to the story. What someone wants for it and what someone is willing to pay.
Board game related features
How much is my Monopoly worth?
Cluedo feature by Rob Edmonds.