Forty years after its debut, the beloved Muppet show Fraggle Rock still holds a special place in the hearts of many. From the lovable Doozers to the iconic Fraggles, it has become one of the most memorable family TV shows ever produced. It's no wonder that many fans have been collecting memorabilia from this show for decades! In celebration of the 40th anniversary of Fraggle Rock, we're taking a look at some of the most popular Fraggle Rock collectibles and Fraggle Rock merchandise out there. We include a price guide / value guide on some of the vintage items.
A Brief History of Fraggle Rock
Fraggle Rock first aired on Jan. 10, 1983 in Canada and June 3, 1983 in the United States. The show follows the adventures of five humanoid puppet creatures called Fraggles who live deep underground with their friends—the industrious Doozers and mysterious Gorgs. The stories center around themes such as friendship, loyalty, trustworthiness, courage, and responsibility. The show featured memorable songs written by Oscar-winning composer Philip Balsam as well as puppetry by legendary Muppeteer Frank Oz.
Originally airing in 1983 it ran for five seasons until 1987. There were 96 episodes in the first five seasons, although there were only 13 episodes in the each for the fourth and fifth seasons (1986 and 1987). It was the product of a co-production between Henson International Television, the international division of Jim Henson Productions, and multiple other entities. This included British regional ITV franchise holder Television South (TVS), CBC Television from Canada, U.S. pay-TV service Home Box Office, and the Jim Henson Company then known as Henson Associates. Filming for it was done in Toronto on a soundstage and later at Elstree Studios near London.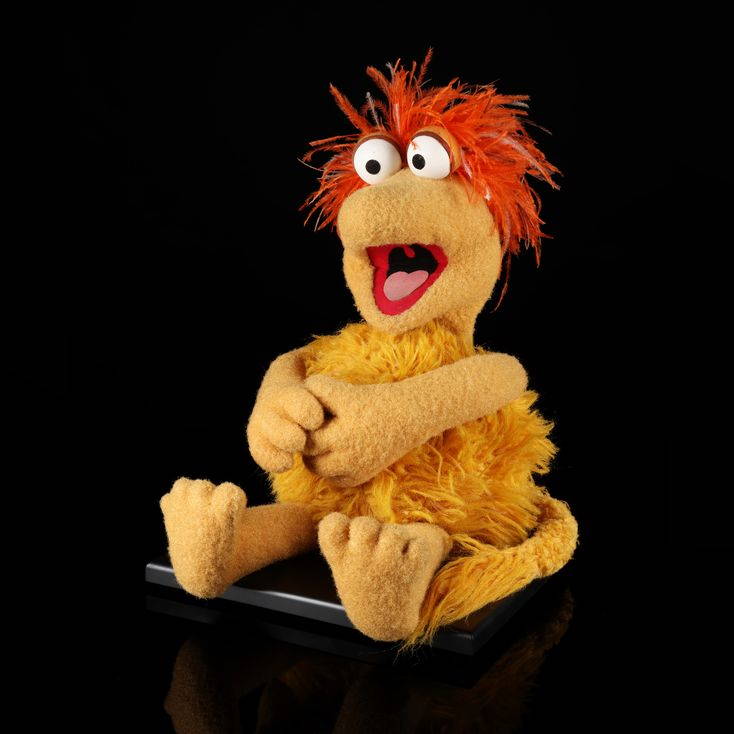 Fraggle Rock Anniversary Collectibles
Surprisingly there seems to be very little in the way of 40th anniversary Fraggle merchandise. Previous anniversaries have been better served. For the 30th Anniversary in 2013, doll designer Gregg Ortiz created a Limited Edition of the Fraggle Red. The figure is more like a small prop and measures is 24 inches tall, with 9 points of articulation and a pose-able tail. Her hair was made from ostrich feathers, her sweater was red chenille with red velvet piping, and her pigtails were tied with satin and velvet bows. These all sold out at the price of $1,200. They now sell for around $800-$1200 depending on condition.
Funko created a series of 8 Fraggle Rock Funko Pops for the 35th Anniversary in 2018. These all featured 35th Anniversary logos and three were exclusive including Red with Doozer for BAM, Sprocket for ToyRUs, and Travelling Matt for their Specialty Series.
The Characters
What made Fraggle Rock so special was its characters. The main group were the Fraggles, small humanoid creatures with various colors of fur and clothing, who lived underground in their own society. They were joined by two other main groups of characters – Doozers and Gorgs – who each had their own unique cultures and personalities.
The Fraggles – The five main Fraggle characters of the beloved TV show Fraggle Rock – Gobo, Mokey, Wembley, Red and Boober – are colorful, lovable creatures that each bring something unique to their small bubble of a world. The leader of the group is an adventurous explorer by the name of Gobo, who is always on a mission to find new things or solve puzzles. His sister Mokey is more artistic, often singing original songs that reflect what's going on inside her heart. Then there's Wembley, the fun-loving Fraggle that can be found playing pranks or cracking jokes. Red the courageous Fraggle. And finally Boober, who is generally shy but also possesses a knack for gizmos and problem solving. Together they embark on all kinds of exciting journeys in their little underground community.
The Doozers – The Doozers from Fraggle Rock are small (about 6 inches high), green, pudgy creatures who live in a colony beneath the Fraggles. Dressed in bright yellow helmets and red boots, these industrious little characters spend their days building towering constructions out of candy-like "Doozer sticks", only for the Fraggles to eat them. They seem to have limitless energy and love nothing more than working together humming delightful songs as they create their architectural masterpieces. The Doozers maintain a complicated since of organization in their clan, address each other respectfully and quarrel rarely – a perfect depiction of cooperation that children can easily relate to. The Doozer characters also play an important role in presenting life lessons throughout the series, showing viewers basic principles of civility that can be incorporated into everyday life.
The Gorgs – The Gorgs are an iconic trio of characters on the beloved 1980s children's TV show Fraggle Rock. They consist of Ma, Pa, and Junior Gorg. The three live in an old, crumbling castle located high up on a hill above the cave dwellings of the Fraggles. The Gorgs spend most of their time tending to their vegetable garden and attempting to protect themselves from the intrusions of the Fraggles. Pa is known for his attempts at capturing one of the Fraggles to no avail. They also have a pet rabbit named Gooble and a pet gorilla guard named Wembley. Despite their occasional bumbling, they are beloved figures in the world of Fraggle Rock and embody the unique balance between living beings that inhabit this special world.
The Silly Creatures from Outer Space – The series was an international co-operation and was created to air in various different forms internationally. Scenes and characters from outside the rock it self were called Outer Space and the characters Silly People. The original North American and German versions were set in a workshop, the UK episodes were set in a lighthouse, while the French episodes were set in a bakery. The two most prominent characters were Doc and the wonderful dog Sprocket.
Fraggle Rock Back to the Rock
Since its initial run, attempts have been remade to reboot the franchise including a feature film Fraggle Rock The Movie which was initially announced in 2005 for potential release in 2009. However, various issues meant the film never went ahead. In 2020 Apple released a series of Fraggle shorts called Fraggle Rock Rcok On. A full TV show reboot of the series with feature length episodes was announced by the Jim Henson Company in January 2021 and is entitled  Fraggle Rock: Back to the Rock. Season 1 eventually aired in Apple TV in January 2022.
If you're a fan of Fraggle Rock then chances are there's something out there for you in terms of Fraggle Rock Collectibles. Whether it's replica figures or rare merchandise, celebrate 40 years since its debut with some fun memorabilia from this iconic TV show! No matter what kind of collector you are—from casual fans looking for t-shirts and mugs to hardcore enthusiasts hunting down limited edition items—there is sure to be something special out there for you when it comes to celebrating 40 years since Fraggle Rock first aired!
Related
Fraggle Rock and JimHenson.com