Black dolls are special, they enhance and enrich any collection of dolls. They provide a focal point, and the eye is always drawn to the black beauties amongst a group of insipid 'white-skinned' dolls
Pictured right: Lee Middleton First Generation Doll
Whether pale chocolate, dark ebony or coffee coloured, black dolls bring contrast to a collection; certainly, a group of black dolls is a stunning sight, and many collectors specialise in them.
With older dolls, especially, black versions are often more expensive than their white siblings because manufacturers tended to produce black dolls in smaller quantities than their white counterparts.  In the case of some of Britain's classic dolls, such as Tiny Tears, the black varieties were only sold abroad, while although many modern play dolls come with a leaflet advertising a black version, they are not always easy to obtain. For example, when my daughter wanted a black version of a Hornby/Tyco ballerina doll in the early1990s, Toys 'R' Us had to order it specially for her, even though it was depicted on the box as part of the range. Even today, though millions of people in Britain are 'ethnic', the vast majority of dolls in an average toyshop are white.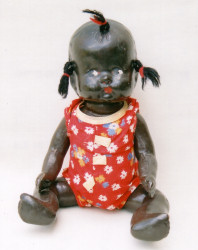 Pictured right: Composition Topsy Doll
When I was a child, no collection of dolls was regarded as complete unless crowned by a black doll; mine was a 1950s Roddy thumbs-up walker with a soft, black, mohair wig, amber eyes and 'gold' earrings. Hard plastic, she stood 12 inches high, and as she walked her head moved from side to side. Recently, I managed to find a replacement, she cost me almost £40, although an equivalent Caucasian version would have been at least £10 less. I have also added a Roddy 'Topsy' baby doll, which features three tufts of hair, as well as a larger Roddy bent-legged baby – both of these, too, cost more than the white versions.
Many black dolls earn the Topsy name, taken from the popular novel, 'Uncle Tom's Cabin' by Harriet Beecher Stowe. This book, first issued in 1851, did much to popularise black dolls, mainly due to the cheeky little character named Topsy. Years later, baby dolls with three tufts of hair sprouting from their heads became known as Topsy dolls, and were made by various manufacturers, becoming especially popular during the 1930s and again in the 1950s.
Pictured right: Daisy Kingdom Daisy Doll
Although some black dolls have Negro features, more often they are just a basic white doll painted black or chocolate brown to save the cost of making a special mould and given a black wig and brown or amber eyes. Dolls such as the Zapf black Baby Born make no attempt to depict the correct characteristics, while at the other end of the scale, creations by doll artist Philip Heath, are amazingly-detailed depictions of African children.
A German catalogue dating from 1860 reveals that a fifth of the jointed wooden dolls made at the time were black. During the nineteenth century, dolls were often made from black wax or painted papier-mache, but when bisque became popular, manufacturers had problems with the black ones. Eventually they developed a technique to fix the colour during a second firing; before that, the colour tended to chip or flake from the bisque revealing pale patches. By the beginning of the twentieth century, black dolls were produced by manufacturers such as Kammer and Reinhart, Kestner, Heubach Koppelsdorf, Armand Marseille, Simon and Halbig, and others. Many were beautiful, with even colouring as techniques improved. French black dolls, by makers such as Bru and Jumeau, were luxury creations often painted in several different shades of black and brown to create a very realistic skin tone. Production of black dolls increased during the 1920s and 30s, coinciding with the popularity of the baby doll; dolls such as Armand Marseille's 'My Dream Baby' and Grace Putnam's 'Bye-Lo Baby' were created as black versions, though they still had Caucasian features. Black versions of bisque dolls can cost much more than their white counterparts, especially those displaying even colouring.
Pictured left: Pedigree HP Boy Doll
When composition dolls began to take over from bisque in the 1930s, it was noticeable how the black colouration varied considerably, with some showing a rich hue while others were blotchy and inclined to flake. Amongst the composition dolls were several Topsy types, including a 9 inch cutie with side-glance eyes, a floral romper suit and three woolly pigtails tied with scarlet ribbons, produced by the Gem Toy Co., of America.  Several other companies produced dolls with the three-pigtailed style, while the British Cecil Coleman firm issued a crawling 'Topsy' in the 1930s. Effanbee, of America, produced their composition Patsy dolls in black as well as white, and these were copied by manufacturers such as Bouton Woolf, who produced 'Phyllis', a 12 inch girl. Phyllis was unevenly sprayed and had a strange waxy glaze prone to crazing. I have one of these in my collection, and in spite of her faults she is one of my favourite dolls.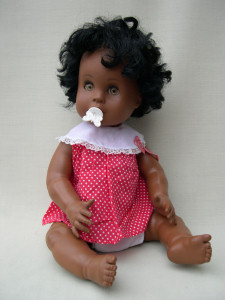 Pictured right: Pedigree Kizzie Doll
Black dolls were also made from celluloid, until this material was phased out in the 1950s as a fire hazard. Many of these dolls were extremely pretty, and, produced by companies such as PetitColin of France and the German turtle mark Rheinische Schildkrot, were often dressed in ethnic costumes to be sold as souvenirs. Norah Wellings, a British dollmaker working in the 1930s – 50s, was famed for her character-type cloth dolls, and one of her most popular creations was the 'South Sea Islander', made from dark brown velvet, and wearing a grass skirt and a smile. The male counterpart sported a bright pair of trousers and a rather toothy grin. Black fabric dolls were also produced by Dean's, Alpha Farnell, Chad Valley and Merrythought, but the majority are more difficult to find today than their white counterparts.
During the late 1940s and early 1950s, not long after the war, Britain's black population began to expand as immigrants from the West Indies arrived to help with the labour shortage. Naturally, toy manufacturers made the most of this fresh marketing opportunity and there was a surge in black doll production. Some companies created moulds with Negroid faces, often using a deep brown or intense black colouring, and giving the dolls hair of tight curled astrakhan, while others used standard moulds but cast them in brown plastic. Roddy, Rosebud, Palitoy, Tudor Rose and Pedigree all made black dolls in various styles.
Pictured left: Palitoy side-glance vinyl Doll
A particularly popular, and nowadays very collectable, black doll was Pedigree's Mandy Lou. She was made from shiny black plastic with exaggerated bright red lips and a very short astrakhan wig. Mandy Lou was a walking doll who stood 20 inches tall, and she had a brother, Dixie. Pedigree also made a black version of the pretty Saucy Walker doll, while Palitoy called one of their dolls 'Topsy', though this one wasn't a baby with three tufts of hair but a large, 21 inch tall, girl with sleeping eyes, tight-curled wig and hoop earrings. This Palitoy doll was one of their Paliglide walkers who featured a distinctive marching action – her arms swung as she moved.
Pictured right: Tudor Rose Doll
Today, many modern play dolls appear in black or 'ethnic' versions, and though harder to find might be easier to track down in toy shops situated in areas with a large multi-racial population. Look out for the Toybrokers Tiny Tears 'Best Friends' package which contains a black baby and a white baby, and the super black version of 'Baby Alive'. Teen dolls such as Bratz, Barbie, My Scene and Sindy all feature black dolls.
Black varieties of collector's  favourites such as Sasha, First Love, Amanda Jane, Cabbage Patch and Dolly Surprise are still fairly easy to find on the secondary market. Many designer dolls intended for collectors feature black dolls, from porcelain versions issued by companies such as Alberon, Leonardo and Knightsbridge, to vinyls from Lee Middleton, Jan McLean, and Philip Heath. Ashton-Drake have made many ethnic dolls in both porcelain and vinyl.
Black dolls add emphasis to any doll collection, and are a welcome change from the blue-eyed blondes favoured by so many manufacturers. They can be dressed in vivid colours, making a pleasing contrast to the pastel hues so often seen on pale-skinned dolls – though white, cream, pale pinks and blues suit the black skin perfectly, too.  It's always worth adding black versions of dolls to a collection; often they are more likely to hold their value, and they have a very special charm.