The wonderful Beswick Butterfly Plaques are quite rare and were produced from 1957 to 1963 and were all designed by Albert Hallam. We take a look at these colourful creations with a price guide of sales at auction.
There are thought to be nine designs and were made in large, medium and small sizes. Each Beswick Butterfly Plaque had a model number from 1487 to 1495.
The model name and number is on the reverse of each butterfly plaque.
The wire antennae on the butterflies are quite fragile so complete examples in perfect condition can fetch a premium.
List of Butterfly plaques with their model number: 
1487 Purple Emperor Butterfly
1488 Red Admiral Butterfly
1489 Peacock Butterfly
1490 Clouded Yellow Butterfly
1491 Tortoiseshell Butterfly
1492 Swallow-tail Butterfly
1493 Small Copper Butterfly
1494 Purple Hairstreak Butterfly
1495 Small Heath Butterfly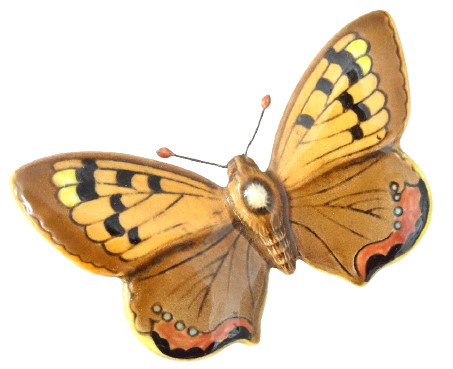 Beswick Butterfly Plaques Price Guide
The collection of butterfly models by Albert Hallam are a rarity among Beswick and most modern collectables in that the prices are stable and rising. The prices for most butterflies are more than during the 1990s when many collectables peaked. Typical prices at auction are shown under each butterfly pictured.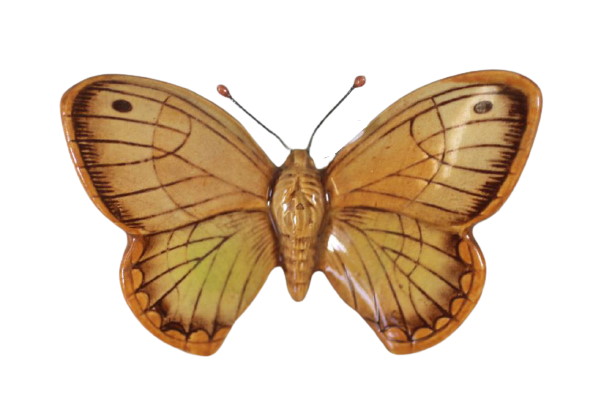 A great series and one that looks to be a long term investment.