Beads, Bobs And Babies – Dolls in The 1920s by Sue Brewer
What a time it was! Carefree, sparkling, crazy; the 1920s was a decade for the young. It was fashionable to be youthful, with thin bodies, no busts and long legs ending in strappy-shoes. Parties were held at the slightest excuse, and dances such as the Charleston were all the rage, performed by arm-flailing, leg-kicking youngsters in fringed and beaded dresses with feathered headbands worn low across their foreheads.
The Music-hall was still popular, with roguish singers such as Marie Lloyd playing to packed houses every night, while wind-up gramophones ensured that music was always available – and at least one member at every celebratory gathering was an ace piano-player. My grandmother held parties in her flat next door to the Palace Theatre in Walthamstow, and the artistes would call in after the show, dancing and singing and filling the air with laughter and love, something her children would always remember. She was one of the first so-called `flappers` in the area, rushing to get her hair bobbed as soon as she heard of the fashion.
There was a feeling of optimism – the devastating Great War was over – and women were becoming much more independent. During the hostilities, they had worked in previously male-dominated occupations, and having acquired a taste for freedom and life outside the home environment, were determined not to give it up again.
Naturally, not everyone was affected by this wave of euphoria. Thousands of people lived in abject poverty, and families still grieved for the men who never returned from the war. In Britain, King George V and Queen Mary were popular monarchs, and George had spent much of the War visiting the troops abroad. He wanted to fight for his country, but was not permitted as it was feared he could be captured as a prize hostage.
Queen Mary was very fond of dolls and was presented with a wonderful doll`s house, exhibited at the British Empire Exhibition in 1924. It can still be viewed today at Windsor Castle. This enormous, five foot tall house, designed by Sir Edward Lutyens, contains hundreds of items made by crafts people of the time, such as tiny bottles filled with champagne, ornamental figurines, Doulton china, Cartier clocks and carved furniture. It boasts running water, electric lights and a working lift.
German dolls were exceedingly popular during the 1920s, and it was during this time that Armand Marseille introduced one of his most popular lines with the `My Dream Baby` doll. This pretty baby, with a bisque porcelain head, is a favourite amongst today`s collectors. Available in several sizes, with a hard or soft body and in various `skin tones`, there was one to suit every little girl. There was even a choice of open or closed mouths. The open-mouth My Dream Baby was marked with the mould number 351 and was bald-headed with a moulded few curls. Her mouth revealed two tiny bottom teeth. These babies featured the recently-introduced bent-limbed body (as opposed to the `traditional` straight-limbed bodies jointed at knees and elbows.)
The closed-mouth version, mould number 341, is particularly sought after today. She has a rather dreamy expression and sweetly-shaped lips, and is not quite so plentiful as her open-mouthed sister. My Dream Baby dolls had either flange or socket heads (indicated by a letter `K` on the back of the neck), and could be obtained as caucasian, black or oriental types, though no attempt was made to alter the features, it was just the colouring which differed. The oriental dolls had a creamy complexion, while the colour of the black dolls varied from milk-to-dark chocolate brown.
In America, Grace Storey Putnam developed another top-selling baby doll, the Bye-Lo baby, which was introduced shortly before My Dream Baby – though Armand Marseille claimed he had designed his doll first but not produced it! The Bye-Lo had more realistic face-modelling than the Dream Baby, managing to achieve a `screwed-up` look with the porcelain. Apparently, it was based on a new-born baby, and little creases were put into the composition limbs. Issued in 1922, these sweet dolls became nicknamed the `million dollar babies` because they were so much in demand. They were made by various German companies, including Kestner.
Many other manufacturers such as Ernst Heubach, Schoenau & Hoffmeister, Kammer & Reinhardt, Kestner and Simon & Halbig produced bisque dolls at this time, most using the new bent-limbed baby-type body, though girl dolls with multi-jointed bodies were still available. Armand Marseille made other baby types, too, including a particularly attractive character-faced 990 mould. This doll was produced in various sizes, and the larger-than-life model tended to find its way into shop windows, where it was used to model baby wear. Babies were in fashion, because a very special little girl was born in 1926 to the Duke and Duchess of York, who later became Queen Elizabeth II.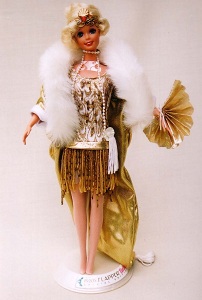 Little all-bisque dolls were popular, too. These could fit into a dolls` house, or neatly into a pocket to be carried around as a child`s companion. During the Great War, when German exports were discouraged, Japanese dolls made from a coarse white bisque had been introduced, but now, the finer-quality German dolls were back in the shops. Celluloid, wood and cloth dolls were also produced, with manufacturers such Dean`s issuing exquisite moulded-cotton-faced dolls, including the Princess doll from 1927, Posy dolls, boudoir dolls and a range using the newly-developed `Evripose` jointing system.
Chad Valley was another company manufacturing cloth dolls at this time; these beautiful dolls featured moulded-felt faces with glass eyes. Their dolls included the Bambina series, made from felt and velvet, and a leggy Boudoir doll. Norah Wellings, originally a designer with Chad Valley, began producing her own collection of dolls during the 1920s, setting up a factory in Shropshire. Her Cora dolls featured felt faces, velveteen bodies and were dressed in pretty frilly frocks. Later she became known for her cheeky sailor dolls.
The 1920s saw the introduction of what were later to become household names or everyday necessities – characters such as Mickey Mouse, Robertsons gollies, Bonzo dog, Winnie the Pooh and Rupert Bear made their debuts, while television, frozen food, penicillin and aerosols were developed or invented. There was a craze for black cats as ornaments, and cartoon cat Felix had people `rolling in the aisles` at his antics. Mabel Lucie Attwell and Cicely Mary Barker became known for their exquisite drawings of cheeky tots and flower fairies respectively, while later, dolls were made featuring the creations of both artists. One of the most poignant innovations was the introduction of the wearing of artificial poppies on Remembrance Day, commemorating soldiers who died in the Great War. To this day, services are held throughout Britain and poppy wreaths laid at war memorials.
By the late 1920s, many of the bisque manufacturers were producing dolls made solely from composition, a rather vague term which covers many substances, but in this instance was usually a material comprised of a sawdust, plaster and glue mix. Doll heads made using this material were far less likely to chip and shatter than the delicate bisque, and by the 1930s had more-or-less superseded china. The next generation of dolls were more robust, though lacked the subtleness and delicacy of painting of the bisque dolls. However, their durability made them ideal for an era destined to once more face the hardship of war.
Related

Dolls at WCN