Barbara Millicent Roberts is fifty years old this year, yet she is looking younger and more glamorous than ever. How does she do it? It's just not fair. This American icon, with her huge family of friends and relations, is famed world-wide and recently a megastore dedicated just to her opened in China. Blonde, beautiful, and above all, very pink, her wholesome image beams from toyshops, enticing even the youngest children to 'want a Barbie'. Recently, a crowd of young upstart Bratz dolls tried to steal her thunder, and for a while they succeeded – but our heroine wasn't having any of that. She took them to court and sued them. So, where did Barbie come from? Who dreamt her up? And why is she still so popular?
Pictured right: 1959 Barbie
Although this may sound a shocking thing to say about an international icon, Barbie's origins are slightly salubrious, perhaps not as pure as she likes to make out. In the late 1950s, Ruth Handler, wife of Elliot Handler, a co-director of Mattel, was visiting Switzerland when she came across a kind of fantasy doll being sold in tobacconist shops. The dolls were sold to appeal to men, and were often used as mascots to adorn cars and trucks. They were based on a 'good time girl' who featured in a cartoon strip in 'Bild' newspaper, a German publication. The character's name was Lilli. Today, collectors often refer to these very early figures as 'Bild Lillis'. Ruth took back selection of the dolls to America, with the idea of producing a teen doll to appeal to girls.
Mattel inspected the dolls, and from them created their own version, slightly less hard-faced and with less makeup. Ruth christened the doll Barbie, after her own daughter, and in 1959 launched her at the American toy fair. However, Barbie didn't meet with much approval; the buyers for the stores demurred over introducing a glamour doll which had a voluptuous figure and pouting lips but which was intended for a young girl. Not wanting their new project to become a flop, Mattel screened a short black and white advertisement in the middle of a children's television programme, which featured Barbie and her outfits. That was all it took – girls across America were hooked, suddenly they all wanted a Barbie doll of their own. In 1961 she acquired a boyfriend, Ken, and three years later, a younger sister, Skipper. Since then, many more additions to the Barbie family have been made.
Pictured left: 1962 Barbie

Pictured right: Barbie Can Can
Even so, at first, not all the world was Barbie mad, and once Pedigree's Sindy doll arrived in 1962, it was Sindy who was to dominate the teen doll market for almost twenty years. Even so, when Barbie finally did find her foothold over here, she was adored by thousands of girls, many of whom were won over by her high heels, curves and sophistication, as opposed to Sindy's sweet girl-next-door look.
The very early Barbies still had a rather 'hard' look, with red pouting lips, black lining around the eyes and arched brows, even though they had been toned-down. Barbie's first outfit was that, now iconic, black and white striped swimsuit, teamed with high heels and gold earrings. Initially, the dolls weren't sold in Britain, but in 1967 a Hobbies Annual supplement contained a section devoted to Barbie which stated, 'America's most popular (and certainly the most heavily advertised) range of fashion dolls, has recently been introduced into Europe with amazing success. Barbie, her MOD cousin Francie and her younger sister Skipper, are a range of beautifully made dolls with the most exclusive wardrobes yet seen. Barbie and Francie can wear each other's clothes, so start with either doll and add-to as you go along. All models supplied with a pedestal stand'.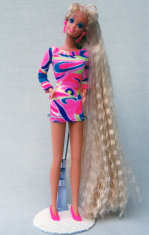 Over the years, Mattel softened the Barbie doll features more and more, making her appealing to youngsters, and, certainly by the 1980s, she had become very popular in Britain. Toyshops soon had aisles of Barbie pink boxes, and Barbie demonstrated her versatility as she became a doctor, a vet, a dentist, an Olympic ice skater, a swimmer, a fashion model, a rock star and an astronaut. She also appeared with James Bond, Elvis Presley, Frank Sinatra and in Star Trek – all in miniature, of course. Above all, though, Barbie became a fashion icon. In 1984 she celebrated her 25th anniversary, and appeared in a special 'Crystal Barbie' outfit, a doll which every small girl wanted. The long dress was made of a kind of pearlised fabric which shimmered in the light, and Crystal Barbie became one of the decade's best selling Barbies. A decade later, 'Totally Hair' Barbie was released, the biggest-selling Barbie to date. She wore a multicoloured mini dress and her hair reached down to ankles, measuring 10.5 inches, the longest-haired Barbie ever.
Pictured left: Barbie Totally Hair
At the end of the 1990s, the 'Generation Girl' series of Barbie and friends was introduced, showing Barbie as we had never seen her before, with a street fashion look. Barbie's face has altered a lot over the years; today, she has a much softer, gentler look than the original 1959 doll. She has also extended her family circle considerably, acquiring sisters Skipper, Stacie, Kelly, Krissy, Tutti and brother Todd, as well as a myriad of friends and relations. Cleverly, Mattel began to issue special collectors' editions, and top-of-the range Barbies, some of which sell for two or three times the price of a standard Barbie doll, while others, wearing outfits created by top designers, can cost hundreds of pounds. These are in addition to the basic 'pink-box' dolls, the dolls intended for children.
Nowadays, the Barbie collectors' market is booming, with a huge variety of fashion, retro and themed dolls being issued, most of them destined never to be played with – or indeed, never removed from their packaging. Naturally, to celebrate her fiftieth anniversary there are special releases, including a fabulous 50th Anniversary Barbie in an elegant gold dress, with plenty of frills and glitz. One of the collectors' specials is 'Generation Of Dreams' Barbie whose dress is printed with a colourful montage of Barbie images throughout the years, while Mattel are also releasing repro favourite Barbies from various decades, including 1986 'Barbie and the Rockers', 1967 'Twist 'n' Turn', 'Superstar' from 1977 and, of course, the 1959 original 'Debut Barbie' in her black and white swimming costume.
Pictured right: 50th Anniversary Barbie
Amazingly, Barbie at fifty looks years younger than she did in 1959 – totally unfair to those of us who live in the real world. However, through Barbie, we can live out our dreams and fantasies. Here's to the next fifty years, golden girl!
DID YOU KNOW?
It's been estimated that 105,000,000 yards of fabric have been used to make the fashion clothing for Barbie and her friends.
BARBIE FACTS
1 300,000 Barbies were sold during 1959, her first year of manufacture
2 Barbie stood for President in 2000
3 Jewel Girl Barbie, from 2000, was the first Barbie to have a navel.
4 In 2001 Barbie starred in the ballet 'The Nutcracker' in her first DVD.
5 Barbie is 11.5" high and weighs 7.25 oz.
RELATED
WCN Barbie Pages