Belleek Pottery was founded in 1857 by John Caldwell Bloomfield. The company is located in Belleek, County Fermanagh, Ireland. Belleek Pottery's porcelain is characterized by its thinness, delicate features, and a translucent quality that resembles ivory. The pottery has become one of the most popular potteries in the world, and has managed to remain successful and still continues to produce pottery today. In fact the Belleek Factory produces over 100,000 pieces of pottery every year.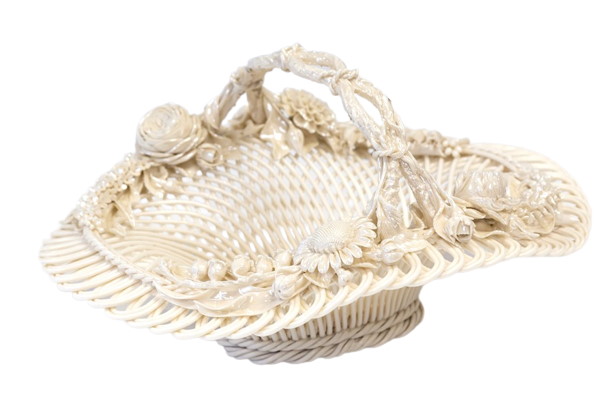 The history of Belleek Pottery
Belleek Pottery is a world-renowned pottery company that has been in operation for over 150 years. The company was founded in 1857 by John Caldwell Bloomfield in the village of Belleek, County Fermanagh, Ireland. Bloomfield was inspired by the Chinese porcelain he had seen while working in England, and he set out to create a similar product using local materials and resources. The company started out by producing earthenware products but later switched to producing porcelain.
The change was due to the discovery of feldspar, kaolin, and other raw materials on Bloomfield's land. These materials allowed for a higher quality of porcelain to be produced. On discovering, whilst having a geological survey of the land , that the area was rich in minerals, Bloomfield went into partnership with London architect Robert Williams Armstrong and Dublin merchant David McBirney. In setting up a pottery business, Bloomfield managed to get a railway line built to Belleek so that coal could be delivered with which to fire kilns.
The first pieces of Belleek pottery for which the company became famous were made in 1863, using this local white clay found in the nearby Sligo Hills. The pottery was an instant success, and By 1865, the prestige of the company had increased that Belleek was exporting all over the world including Australia, Canada, and the United States. In England customers included the Prince of Wales, Queen Victoria and the nobility. Porcelain was featured by Belleek for the first time at the Dublin Exposition of 1872 which showcased their range of Parian china statues and busts, ice buckets, compotes and centrepieces.
The influence of Goss on Belleek's early production
Initially, the company struggled to find its footing, but everything changed when they recruited craftsmen, including William Bromley,  from the Goss factory in Stoke-on-Trent in 1863. These experienced workers helped to transform Belleek into a world-renowned pottery, known for its intricate designs and beautiful products. Around the time there were some similar pieces produced at both factories including a bust of Charles Dickens.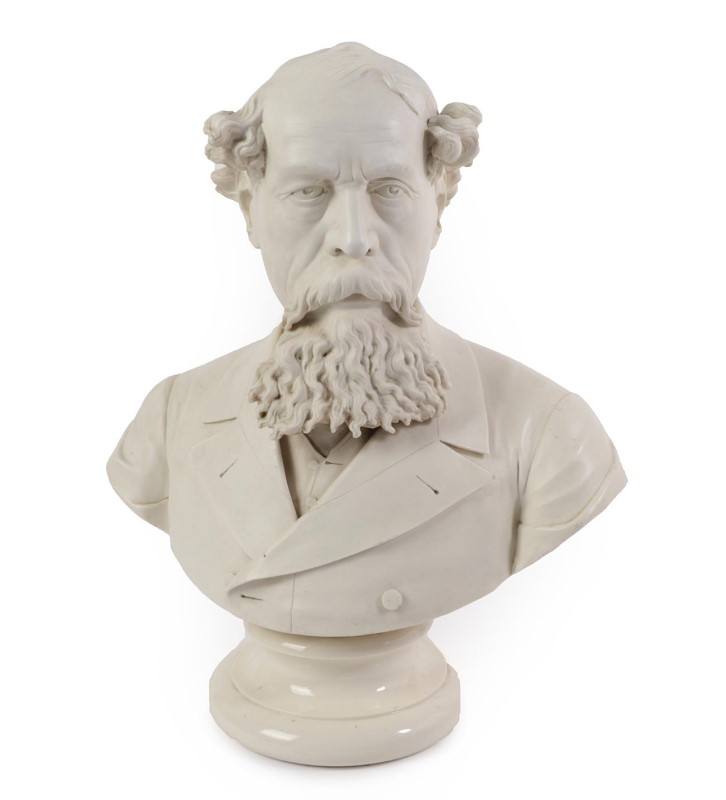 The Famous Belleek Baskets made by William Henshall
The Belleek porcelain baskets with applied flower-work made by William Henshall are some of the most beautiful and collectible pieces of Belleek pottery. Born in 1839, Henshall was the son of a Belfast linen merchant and was apprenticed to the Belfast firm of John Caldwell, china and glass dealers. He later studied at the Royal Irish Academy of Music and then worked as a music teacher in Dublin. In 1862, he joined the staff of the newly established Belleek Pottery in County Fermanagh, Northern Ireland. Henshall quickly rose to become one of the leading designers at Belleek, and his elegant porcelain baskets with applied flowers and lifelike floral designs were among the most popular items produced by the pottery. Today, Henshall's baskets are highly coveted by collectors and can sell for tens of thousands of dollars at auction. Thanks to Henshall's talent and artistry, the Belleek Pottery is known for producing some of the finest porcelain in the world.
The challenges the company has faced over the years
The company has faced several challenges over the years, including two World Wars and the Great Depression. The first World War brought with it many restrictions on exports, causing Belleek's business to suffer. However, World War II caused many similar challenges to WWI with its rationing of coal and drying of the export markets. In those years, the company produced utility earthenware pieces fired at lower temperatures and managed to survive as a business. During the Great Depression, with fewer people buying luxury items, Belleek's sales plummeted and the company was forced to lay off many workers. In order to stay afloat, Belleek began producing more affordable items such as vases and tourist souvenirs. The company also started selling its products through department stores and gift shops, which helped to increase its exposure. The company has continued being adaptable including having a collectors club and thriving International Collectors Society and moving to tourism buy opening an award winning Visitors Centre in 1988. Although the Visitor Centre opened in 1988, Belleek has had tours for decades. In fact, the Belleek Visitors book actually shows a visit on October 1st 1868 by the Earl & Countess of Lanesborough of Lanesborough Lodge, Belturbet, Co Cavan.
What makes Belleek Pottery's porcelain so unique
Belleek Pottery's porcelain is world-renowned for its delicate beauty and intricate designs. What makes this porcelain so special is the way it is made. All of Belleek's pieces are handcrafted from start to finish, using techniques that have been passed down through generations of potters. The clay used to make Belleek porcelain is gathered from the s
hores of Ireland's Atlantic coast, where it is combined with water from the nearby River Shannon. This clay is then formed into shape and fired in a kiln. After cooling, the piece is hand-painted with intricate patterns and finally glazed to give it a smooth, lustrous finish. It is this painstaking attention to detail that makes Belleek porcelain so treasured by collectors around the world.
Belleek Pottery has been crafting high-quality porcelain since the 19th century. Each piece is handcrafted from start to finish, using only the finest materials. The clay used to make Belleek pottery is unique to the region, and it is mined by hand from the hills of County Fermanagh in Northern Ireland. The clay is then expertly shaped and fired three times at very high temperatures. This process gives Belleek porcelain its distinctive creamy white color and translucent quality. In addition, each piece is decorated with delicate imprints of Irish lace, adding a touch of elegance. Belleek pottery is truly one-of-a-kind, and it is prized by collectors all over the world.
Related
Belleek.com