The Who celebrate 50 years of rock in 2014 and we take a look at their history, impact and most importantly for us their collectables.
The Who are an English rock band that formed in 1964. Their best known line-up consisted of lead singer Roger Daltrey, guitarist Pete Townshend, bassist John Entwistle and drummer Keith Moon. They are considered one of the most influential rock bands of the 20th century and are one of the world's best-selling bands.
Pictured left: The Who My Generation LP 1965 on the Brunswick label. Mono 1st Press. In mint condition this record can sell for around £300. This actual LP sold on ebay for £283 in Nov 2014.
The Who developed from an earlier group, the Detours, before stabilising around a line-up of Daltrey, Townshend, Entwistle and Moon. After releasing a single as the High Numbers, the group established themselves as part of the mod movement and featured auto-destructive art by destroying guitars and drums on stage.
Pictured right: The Who A concert poster THE WHO in A Two-Hour Non Stop Concert To Include Tommy, London Coliseum, Sunday, 14th December, 1969. Sold for £1,000 at Christies, London in June 2010.
They achieved recognition in the UK after their first single as the Who, "I Can't Explain", reached the top ten. A string of successful singles followed, including "My Generation", "Substitute" and "Happy Jack". Although initially regarded as a singles act, they also found success with the albums My Generation and A Quick One. In 1967, they achieved success in the US after performing at the Monterey Pop Festival, and with the top ten single "I Can See for Miles". They released The Who Sell Out at the end of the year, and spent much of 1968 touring.

Pictured left: Pete Townshend / The Who: A cherry red Gibson SG Special guitar, serial number 884484 stamped 2, circa late 1967, owned and used by Pete Townshend in the early 1970s – early 1980s; the double cutaway body in cherry red finish, mahogany neck, Grover machine heads, 22 fret bound fingerboard with dot inlays, two P90 pickups, four rotary controls, selector switch, metal bridge, black pickguard bound in white, tailpiece removed; original Gibson contour hardshell case with scarlet plush lining; accompanied by a letter signed by Townshend detailing the provenance. Sold for £37,500 inc premium at Bonhams, Knightsbridge, June 2014.
The group's fourth album, 1969's rock opera Tommy, was a major commercial and critical success. Subsequent live appearances at Woodstock and the Isle of Wight Festival, along with the live album Live At Leeds, transformed the Who's reputation from a hit-singles band into a respected rock act. With their success came increased pressure on lead songwriter Townshend, and the follow-up to Tommy, Lifehouse, was abandoned in favour of 1971's Who's Next.
Pictured right: A rare Quadrophenia film poster, 1980, large format for the Italian release of the film starring Phil Daniels, Leslie Ash and Sting, directed by Franc Roddam, 140 x 100cm, framed and glazed. Sold for £525 inc premium at Bonhams, Goodwood , July 2013.
The group subsequently released Quadrophenia (1973) and The Who by Numbers (1975), oversaw the film adaptation of Tommy and toured to large audiences before semi-retiring from live performances at the end of 1976. The release of Who Are You in August 1978 was overshadowed by the death of Moon on 7 September.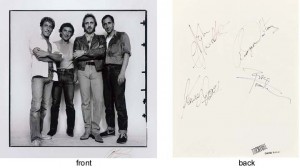 Pictured left: The Who David Bailey Live Aid – A black and white limited edition photograph of The Who by David Bailey, 1985, signed by the photographer and on the verso in black felt pen by Roger Daltrey, Pete Townshend, John Entwistle and Kenny Jones, additionally signed in pencil by the photographer, dated 85 and numbered 1/3. Sold for £960 at Christies, London in May 2006.
Kenney Jones, formerly of the Small Faces and the Faces, replaced Moon and the group resumed touring. A film adaptation of Quadrophenia and the retrospective documentary The Kids Are Alright were released in 1979. The group continued recording, releasing Face Dances in 1981 and It's Hard the following year, before breaking up. They occasionally re-formed for live appearances such as Live Aid in 1985, a 25th anniversary tour in 1989 and for a tour of Quadrophenia in 1996.
Pictured left: The Who – A very rare concert poster Uxbridge Blues And Folk Festival, 19th June, 1965, artists include The Who, Marianne Faithfull, John Mayall, The Birds, Long John Baldry, Spencer Davis, Zoot Money, and others — 29x40in. (75×101.6cm.) Sold for £9,375 at Christies, London in June 2010.
The Who resumed regular touring in 1999, with drummer Zak Starkey, to a positive response, and were considering the possibility of a new album, but these plans were stalled by Entwistle's death in June 2002. Townshend and Daltrey elected to continue as the Who, releasing Endless Wire (2006), which reached the top ten in the UK and US. The group continued to play live regularly, including the Quadrophenia and More tour in 2012, before announcing in 2014 their intention to retire from touring following a new album and accompanying live shows ending the following year.

Pictured right: This Japan Polydor 7″ 45 The Who Won't Get Fooled Again / Don't Know Myself  DP 1817 sold for £819 on ebay in August 2014.
With 50 years behind them many studio albums, live albums, many tours, numerous singles and ephemera, there is plenty for the collector to collect. Many of the international pressings of The Who's albums can be more valuable than the UK pressings. Japanese pressings are of great interest to certain collectors. With the re-emergence of record players, there is once again an increased market for records.