Collecting for me is about amassing items that give you pleasure. Now that may well be a collection of stamps, ceramic ornaments or even toy cars but whatever you choose they are items that either bring back nostalgic memories or you simply purchase them because you love them.
For me collecting is also about our social history, all of the items that we buy did at some stage have a reason for their existence. This is why I am fascinated with collecting items from various decades. Many collectors source anything and everything from the 1930s, whilst others crave items from the 1940s and there are those fascinated by the 1950s. In fact, there are collectors for every decade who either cherry pick items or even live their lives as if it was still that particular era from the 20th Century.
I prefer to cherry pick as I am still very much a modern 21st Century girl at heart. There are certain aspects from each decade that attract me with the 1960s rating very high on the list. I can usually find items that epitomise this era extremely cheaply like the vivid 1960s tray I bought for 20p at a bootsale.
Top Tip: Charity Shops, Bootsales and Garage Sales are perfect places to pick up vintage items for a few pounds. Look for ceramics, glass, fashion and pictures that scream the 1960s. If they are not already sought after they will be very soon.
I am also fascinated by 1960s fashion. A mixture of boutique couture such as Biba and Mary Quant, the invention of the mini skirt and an all round fashion revolution – there is much on offer for the keen eyed collector. Designer labels usually come at a cost but there other wonderful fashion items from this particular decade which can be picked up at a reasonable price.
I purchased a lovely bright red mini dress on one of the internet auctions for £25 which was a real bargain for a piece of vintage clothing. In fact, vintage is all the rage at the moment and I had the pleasure of meeting Hannah Turner Vokes, managing director of the London based vintage clothes store Paper Dress when I was featured in leading fashion magazine Grazia, last year. Hannah is the ultimate vintage fashion junkie and she wore an amazing disposable paper 1960s mini dress and also brought along a 1960s paper bikini to the photoshoot. Hannah often rummages around bootsales to find her bargains and this seems to have paid off as the dress cost just £9 and the bikini which she bought off of an internet site was a steal at £7, both of which are worth considerably more especially if sold in a specialist vintage store.
Top Tip: Look for unusual items like paper clothing as these are becoming harder to find and collectors crave them.
Jewellery is also a favourite for me and I was lucky enough to find a Mary Quant Daisy ring from a collectors fair a few years ago for £50. I have never seen this particular design before as it has beautiful blue enamel and the daisy actually opens to reveal a perfume container underneath. So this particular item fits into collecting 1960s, costume jewellery and vanity items like ladies compacts.
Handbags and shoes from the 1960s are also keenly acquired by collectors and over the years I have bought many vintage examples with one pair costing just £2. Kaleidoscopes of colours they certainly make me stand out in a crowd when I wear them. These can be picked up quite cheaply like the wonderful yellow floral shoes and matching clutch bag that I bought from a bootsale for £25. When originally made these shoes and handbag formed part of the new 1960s fashion bug of ladies matching their shoes to their bags, otherwise known as The Total Look.
It is not just the fashions and accessories of the swinging sixties that get collector's hearts racing as there was much more on offer from this vibrant decade. In 1963 the Cornish pottery Troika was established by Benny Sirota, Lesley Illsley and Jan Thomson. They made attractive, yet usable art pottery which today has stormed the collectors market with people pay thousands for one of the rare plaques or sculptural Aztec heads. There are still more affordable pieces available with coffin vases and marmalade pots selling from £80-£100 upwards. So if you are looking for something dating from the 1960s that fits well into today's environment Troika pottery is definitely an option.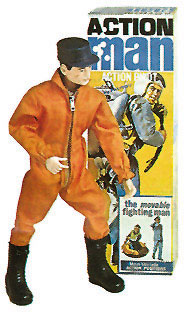 Toys are also a popular area of collecting and the 1960s didn't fail to produce. The Sindy doll was launched in 1963 and many of her outfits were created by leading fashion designers such as Sally Tuffin and Marion Foale. One of my favourite pastimes is hunting out Sindy doll outfits as each replicates the fashions of the time and as I adore fashion this is just an extended way of me indulging my passion.
Fact: The boys weren't forgotten as Action Man was launched in Britain in 1966.
The 1960s had so much to offer and I have literally just touched the tip of the iceberg where collecting this decade is concerned. Revolutionary in so many ways we mustn't forget the music – especially The Rolling Stones and The Beatles. An area really worth indulging in if you can afford to collect some of the original memorabilia. Then of course 1966 supplied us with a host of World Cup memorabilia, not forgetting of course the charismatic British spy James Bond (played by Sean Connery) who first graced the silver screen in 1962 when Dr. No was released.
So rather than just concentrating on one specific topic area of collecting like books, film or sporting memorabilia – take a look at what is on offer from the various 20th Century decades. Unless of course you lived through the 1960s and are now cursing the fact that you threw away that large Whitefriar's glass 'Drunken Bricklayer' vase which you purchased from a department store in 1960 for a couple of pounds and is now worth in the region of £1,000-£1,500.