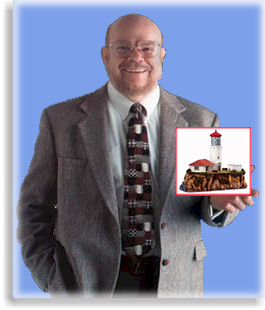 Nothing moves the imagination like a lighthouse. ~ Samuel Adams Drake.
On a rocky outcrop, with camera in hand, a solitary figure waits for a cloud to pass to capture just the right light. Although his feet are wet and sore after a day lighthouse hunting, Bill Younger's heart is filled with exhilaration. Although he has visited hundreds of lighthouses throughout the world, every new location is a fresh experience for him.
In the course of his research, Bill Younger often travels to deserted locations, far off the beaten path. On some of these trips, he has to walk for several hours, sometimes through water. "When I finally arrive at the lighthouse, I forget all of the difficulties. I'm immediately taken into the past and reminded of the families that worked and played there."
As a young lad living with an Uncle and Aunt in Washington DC, Bill would often observe screwpile lighthouses during fishing expeditions on the Chesapeake Bay. Those memories, along with his love for architecture and history, provided fertile ground for the dream that has become Harbour Lights.
The Birth of Harbour Lights
As the first sales representative for David Winter Cottages in the United States, Bill  soon realised that he was not alone in his love of old buildings. Bill felt inspired to create a line of lighthouse sculptures that would accurately depict American architecture.
Working closely with his wife and daughters, Bill's dream became a reality in the Spring of 1991 when Harbour Lights was introduced to the public. The original 17 limited editions were chosen by Bill and his family from America's most famous and beloved sentinels. These included such historic lighthouses as "Cape Hatteras, NC", "Boston Lighthouse, MA", and Sandy Hook, NJ".
A Family Affair
Harbour Lights has been a family affair since its inception. Daughter Kim Andrews, who serves as Managing Director for the company, carried out much of the original research. Now that Bill is able to devote full time to Harbour Lights, he does a great deal of the research on his own.
Bill's wife, Nancy, serves as "Head Keeper" of the popular Harbour Lights Collectors Society, which caters to the needs of thousands of devoted collectors. Although quite busy with two little ones at home, daughter Tori Dawn fulfils a crucial role as one of the principal origination-painting artists. Her husband, Harry Hine, works in the sculpting and research departments.
Artistic Direction
After the overwhelming response to the first 17 releases, new items have been chosen, for the most part, based on results from loyal collectors. Today the collection includes more than seventy active editions, representing every coastal area in the United States, as well as Canada, Europe and Australia. Recent additions include 18 English lighthouses. Another sixty or so have been retired.
Rather than developing a single artist, Harbour Lights decided early on to work with a small team of staff sculptors. For one thing, lighthouses were built by many different individuals, and are quite unique in their own right. Also, Bill felt that the underlying goal of Harbour Lights was to promote maritime history and architecture,
rather than a particular artist. In each replica, he wants to achieve a rendering that is so accurate; it is unmistakable for the real thing.
While attention to detail and authenticity has been the hallmark of Harbour Lights' success, a sincere effort has been made not to stifle the creativity of the artists. Certain editions have revealed some wonderful expressions of artistic freedom. Retired "Cape Canaveral, FL" includes a Saturn launch vehicle, while "Middle Bay, AL" features a cow peering over the lighthouse rail! The 1997 Christmas Exclusive, "White Shoals, MI", was sculpted with an icebreaker forging through the ice.
From a Simple Idea to a Thing of Beauty
Every Harbour Lights replica begins on location, usually with Bill and his camera. Extensive research is required to achieve an accurate finished product. Bill takes photographs from every angle, often including shots from the air and sea. Scores of photos are necessary to capture each nuance and detail of the sentinel.
From photographs, architectural plans and drawings, sculptors begin to work their magic, slowly, painstakingly, creating an authentic model. A silicon mould is then created from the finished model. Depending on the item, high-grade gypsum or cold-cast porcelain is carefully poured into the mould. Once the casting material is hardened, the sculpture is slowly pulled from the mould. Each piece is then meticulously checked for imperfections, bubbles, warping or stray bits of casting material.
With Bill's photos and a large reference library as a starting point, master painters Tori Dawn Hine and staff set out to create a work of art. They sometimes use shards of stone or brick from the original lighthouse to guide their work. Each paint is carefully mixed to create the proper hue, and then, with expert dexterity, the paint
is carefully applied with fine brush strokes. Because these paints permanently stain the sculpture, there is no room for error. Walls are generally painted first, then roofs, towers, and finally the beacon. Gradually, from its humble beginnings as a simple cast, the sculpture is transformed into a thing of beauty, a faithful replica of the actual sentinel.
Limited and Open Editions
Much of Harbour Lights award-winning collection is devoted to limited editions, ranging from 5,500 to 10,000 pieces. Each piece is beautifully gift boxed and comes complete with its own history and certificate of authenticity. After the edition limit is reached, moulds are destroyed, often by Bill Younger himself, and the piece is officially retired.
In 1995, Harbour lights created a wonderful new series of hand-numbered, open edition sculptures entitled Great Lighthouses of the World. Commemorating the world's most celebrated light stations, this remarkable series includes such favourites as "Cape Neddick, ME", "Ponce de Leon, FL", Split Rock, MN" and "Old Point Loma, CA". When a Great Lighthouse is purchased, a portion of the proceeds is donated to the organisation responsible for the preservation, restoration or maintenance of the particular lighthouse.
International Lighthouses
Harbour Lights released its first international edition in 1996, "Peggy's Cove, Nova Scotia". In the Spring of 1997, the first pieces commemorating European lighthouses were introduced, "La Jument, France" and "Longships, England". We sometimes forget that the foundation for America's lighthouses began in Europe long before the first
brick at Boston Light was laid in 1713. One release, "Hook Head, Ireland", honours a lighthouse established in the Twelfth Century!
Preserving the Legacy
When Bill Younger meets collectors and shares the story of Harbour Lights, he often conveys the importance of preserving lighthouses and the memory of those who risked their lives to keep the flames lit. Lighthouses have always represented strength and hope in the face of adversity. An important symbol of the past, they remind
us of a simpler time. While automation has made the need for light-keepers all but unnecessary, their legacy is not forgotten. Harbour Lights is doing its part to keep their memory alive."