The Goebel King's Column produced for The World Collectors Net
by Matt a.k.a. "The Goebel King"
Allow me to introduce myself. My name is Matt and I have been collecting Goebels for over 22 years. I began with Hummels until I had collected every one that I would ever possibly be able to afford. I live in Florida which is one of the prime areas in the country to find antiques and older collectibles because of our older population of retirees from virtually every section of the US. I go "hunting" every weekend and it became quite boring as I could never find a Hummel that I needed, so I branched out into goebels. I quickly became addicted to it and began to sell off my hummels to feed my new habit. Today, I have what is believed to be the largest goebel collection in the country, numbering over 4,500 items.
There have been two books published about goebels, "Goebel Salt and Peppers" by Hubert McHugh and "Goebels" by Wolfgang Schwatlo, the European equivalent of Robert Miller. Both books were printed in very limited quantities and are virtually impossible to find today. Since the average collector cannot easily find information on goebels, I have been asked to write a monthly column on the subject which will appear on worldcollectorsnet.
This, being my first column, will be very basic. I will be getting into the various series produced by Goebel with lots of pictures in the future.
There are two private, non-profit clubs on the subject of goebel collecting. Both issue quarterly newsletters, have conventions, and charge very reasonable dues. 'The Goebel Networkers" is an offshoot of the Berks County, PA Hummel club. We have a bi-annual convention in Reading, PA the last weekend in April which coincides with Renningers extravaganza in Kutztown. Reading is also just up the road from the antique capital of the US, Adamstown. The next meeting will be in 2000. You can get more information on the club by writing to Goebel Networkers, PO Box 396, Lemoyne, PA 17043. The purpose of this club is to share knowledge concerning all goebel items other than Hummels. The "Friar Tuck Collectors Club" is much like the networkers, but we specialize in Friar Tuck items. The annual convention is held in Dayton, Ohio in June, to coincide with the Miller's Hummel Festival. You can get more information on the club by e-mailing Ray Barry at [email protected] or Bob Furman at [email protected].
What is a Goebel? A Goebel is any item made by a company in Germany by the name of Goebel. There is so much confusion between hummels and goebels. All hummels are goebels, but very few goebels are hummels. Hummel was an artist whose work Goebel copied in 3-D form and put her signature, M I Hummel, on each figurine. Hummel is NOT a factory or a company. Hummel has no marks, but bears the signature to identify itself. Hummels have the Goebel mark as do all the other goebel items. Goebel also copied the work of dozens of other artists. Some of the more famous are Disney, Rockwell, Schaubach, Huldah, Harry Holt, Charlotte Byj, Nasha, and on and on. The figurines will almost always bear the signature of the artist. You will also find goebel figurines bearing the signature of goebel employee artists who reached the position of master sculptor. These include Unger, Frobek, and Schrobek. Not even the Goebel company knows how many different items were made since their inception in 1871, but we serious collectors put the figure around 40,000. What really keeps me excited about collecting goebels is that I have no idea what 15,000 of them might look like until I find one at a mall or a show or someone like you sends me a picture.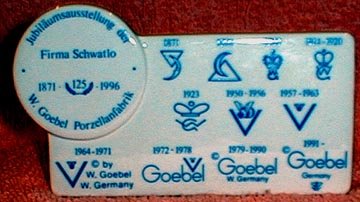 Right is a picture of a Goebel plaque which illustrates all the Goebel marks. It was sold at the last Hummel festival in Germany sponsored by Wolfgang Schwatlo. I'll be referring to this picture throughout the rest of this article.
The first crescent moon mark must be quite rare as I never even heard of a single item with this mark in my life. The second crescent moon mark is usually found on the neck of antique bisque dolls, but I have seen it once on a figurine of an animal and once on a ginger jar.
The first crown mark on the plaque was used beginning in 1900. I own but one figurine with this mark. The next crown mark, used from 1914 to 1923, is called the ducal crown, or narrow crown. I have about 40 pieces with this mark, so you may find one too. The letters below the crown are WG for Wilhelm Goebel, the founder of the company.
The wide crown was used from 1923 to 1950 and is cal led TMK 1 by hummel collectors as this is the earliest mark a hummel can be found in. The first hummel was produced in 1935. This mark is found quite often, both incised into the bottom of the item or sometimes stamped or both ways on the same piece. When both ways are present, the piece is called a double crown. Most of the items made during this period were functional pieces such as reamers, creamers, salt and pepper sets, vases, planters and on and on. However, the crown will be found on half dolls and many series of figurines especially of the religious type.
TMK 2 or full bee mark has a large discernible fat bumble bee inside a V. So many dealers call any item with a V and something inside a full bee. It must be the fat bumble bee. This was used from 1950 to 1956 and during this period, goebel really geared up production as this mark is quite common. The mark is usually accompanied by a black stamped Germany or West Germany if made in 1956. Don't automatically think that if it says Germany, it must be pre-war. Sometimes, we find an item with both the crown and the full bee marks. This simply means that the mold was made before the war, but the figurine was produced in the 50's. We also find dates incised into the bottom of goebels. Again, this is the year when the mold was made. You must go by the mark to estimate when the item was made.
TMK 3 or stylized bee is a large dot with wings inside a V. I'm am now going to confuse everybody but the most advanced collectors. The hummel books are wrong about TMK 3 and TMK 4. I have spoken to at least one of the authors about making the correction, but he felt it would generate too much confusion so he passed. But I think you should know the facts. The mark on the plaque was used from 1957 to 1959. It usually is found with a black stamped West or Western Germany somewhere also on the bottom. We call this TMK 3a.
TMK 3b is a stylized bee with W Germany to the right of the V and is part of the same decal. This was used from 1960 to 1962. TMK 3c is a smaller V with W Germany below it. This is the same trademark as that which is called TMK 4 or the 3-line mark which is the first mark on the bottom row in the picture. Confused? Yep! The 3-line mark was used on items that were copyrighted and the small stylized or TMK 3c was used on items that were not copyrighted. They were used together and are really the same mark. Copyrighted items with earlier marks have a stamp that says copr by W Gobble or c by W Gobble. Every hummel book says TMK 4 was first used in 1964. Wrong, it was used in 1962. My niece was born in Germany on July 4, 1962 and my mother went over to be with her only daughter whose husband was in the army. My mother brought back dozens of Hummels from her trip and many of them are the 3-line mark or TMK 4.
TMK 5 is the word GOEBEL with the V and stylized bee. ( I've noted dealers calling even this mark the full bee from the 50's, so be careful) This was used from 1972 to 1978.
TMK 6 is the same as the previous mark but with the removal of the V. Used from 1979 to 1990.
TMK 7 is the same as 6 but with Germany replacing W Germany. You will find the little crown below TMK 7 only on Hummels. The other goebel products will not bear the crown.
Let me hear from you as to what you might like to read about in future articles. Please e-mail me directly at [email protected] (what looks like the second l in goebel is the #1) If you have any specific questions, I'll be happy to help you as much as I can. I cannot and will not give estimates of values, not because I want to keep this to myself, but because there is no established market for the 40,000 goebel items and therefore no market values. There are a few exceptions such as the Friar Tucks, but generally, you need to find a buyer and he is the one who will determine how much a piece is worth to him.
Speaking of buyers, you found one of the biggest buyers of goebels in the country right here. I am more than willing to pay what I consider retail for any goebel piece I do not have. I'm sorry, but I have no interest in buying Hummels.