The Teenage Mutant Ninja Turtles (TMNT), often shortened to Ninja Turtles, are a fictional team of four teenage anthropomorphic turtles created by Kevin Eastman and Peter Laird and named after four Renaissance artists: Leonardo (Leo), Michelangelo (Mike or Mikey), Donatello (Don or Donnie), Raphael (Raph). The characters initially appeared in comic books before being licensed for toys, cartoons, video games, films, and other merchandise. During the peak of its popularity in the late 1980s through early 1990s, the franchise gained considerable worldwide success and fame.
Pictured right: Teenage Mutant Ninja Turtles #1 (Mirage Studios, 1984) CGC NM 9.4. This edition sold for $5,3770.50 at Heritage Auctions, May 2012.
The Teenage Mutant Ninja Turtles were created in an American comic book published by Mirage Studios in 1984 in Dover, New Hampshire. The concept arose from a humorous drawing sketched out by Kevin Eastman during a casual evening of brainstorming with his friend Peter Laird. Using money from a tax refund together with a loan from Eastman's uncle, the young artists self-published a single-issue comic intended to parody four of the most popular comics of the early 1980s: Marvel Comics' Daredevil and New Mutants, Dave Sim's Cerebus, and Frank Miller's Ronin.
Much of the Turtles' mainstream success began when a licensing agent, Mark Freedman, sought out Eastman and Laird to propose wider merchandising opportunities for the offbeat property. In 1986, Dark Horse Miniatures produced a set of 15 mm lead figurines. In January 1987, they visited the offices of Playmates Toys Inc, a small California toy company who wished to expand into the action figure market. Development initiated with a creative team of companies and individuals: Jerry Sachs, ad man of Sachs-Finley Agency, brought together the animators at Murakami-Wolf-Swenson, headed by award-winning animator Fred Wolf. Wolf and his team combined concepts and ideas with Playmates marketing crew, headed by Karl Aaronian and then VP of Sales, Richard Sallis and VP of Playmates, Bill Carlson. Aaronian brought on several designers and concepteer and writer John Schulte and worked out the simple backstory that would live on toy packaging for the entire run of the product and show. Sachs called the high-concept pitch "Green Against Brick". The sense of humor was honed with the collaboration of MWS's writers. Playmates and their team essentially served as associate producers and contributing writers to the miniseries that was first launched to sell-in the toy action figures. Phrases like "Heroes in a Half Shell" and many of the comical catch phrases and battle slogans ("Turtle Power!") came from the writing and conceptualization of this creative team. As the series developed, veteran writer Jack Mendelsohn came on board as both a story editor and scriptwriter. David Wise, Michael Charles Hill, and Michael Reaves wrote most of the scripts, taking input via Mendelsohn and collaborating writer Schulte and marketing maven Aaronian.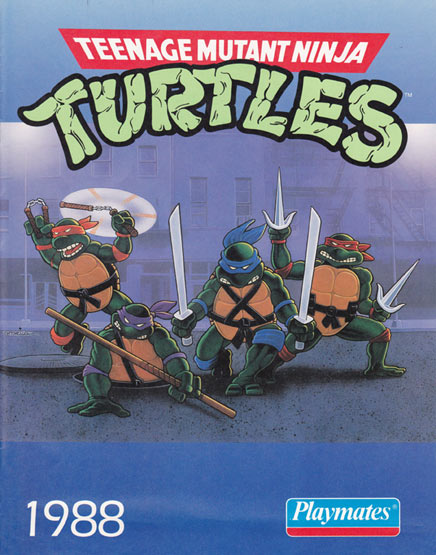 The miniseries was repeated three times before it found an audience. Once the product started selling, the show got syndicated and picked up and backed by Group W, which funded the next round of animation. The show then went network, on CBS. Accompanied by the popular Teenage Mutant Ninja Turtles 1987 TV series, and the subsequent action figure line, the TMNT were soon catapulted into pop culture history. At the height of the frenzy, in the late 1980s and early 1990s, the Turtles' likenesses could be found on a wide range of children's merchandise, from Pez dispensers to skateboards, breakfast cereal, video games, school supplies, linens, towels, cameras, and even toy shaving kits.
Pictured left: Playmates 1988 Teenage Mutant Ninja Toys – Playmates introduced the Turtles, then an unknown property, at the 1988 New York Toy Fair. Despite an unenthusiastic reception, Playmates pushed forward with the line, funding the first five episodes of the cartoon series. And from an initial 3,000-piece order, Teenage Mutant Ninja Turtles went on to become one of the greatest success stories of the industry.
By 1990, the Turtles had become one of the best-selling toys ever, and the cartoon show was the top-ranked Saturday morning kids show in the US. The firstTeenage Mutant Ninja Turtles movie, released in 1990, grossed over $200 million worldwide, setting a new record for a release by an independent studio. In the same year, the Turtles had an estimated 60% share of the action figure market.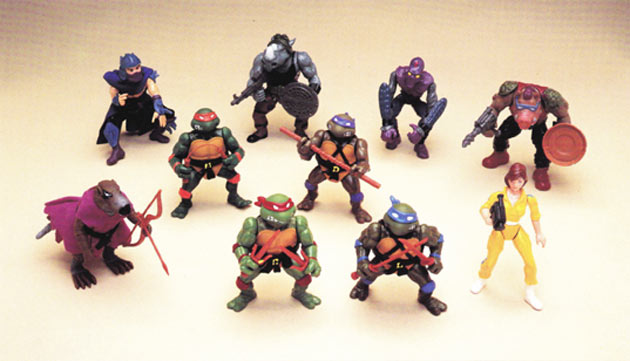 Driven by the Teenage Mutant Ninja Turtles phenomenon, Playmates sales exceeded $500 million in 1990, and the Company became the first toy company in history to generate over $200 million in pretax profit.
On October 21, 2009 it was announced that cable channel Nickelodeon (a subsidiary of Viacom) had purchased all of Mirage's rights to the Teenage Mutant Ninja Turtles property. Mirage retains the rights to publish 18 issues a year, though the future involvement of Mirage with the Turtles and the future of Mirage Studios itself is unknown. Nickelodeon plans to develop a new CGI-animated TMNT television series and will partner with fellow Viacom company Paramount Pictures to bring a new TMNT movie to theaters. The TV show premiered on Nickelodeon on September 29, 2012.  However, in June 2012, Paramount shut down their planned production due to script issues, pushing their release date out until May 2014.
Teenage Mutant Ninja Turtles Comics
Eastman and Laird's Teenage Mutant Ninja Turtles premiered in May, 1984, at a comic book convention held at a local Sheraton Hotel in Portsmouth, New Hampshire. It was published by Mirage Studios in an oversized magazine-style format using black & white artwork on cheap newsprint, limited to a print run of only 3,000 copies. Through a clever media kit that included an ad placed in Comic Buyer's Guide #545, the public's interest was piqued and thus began the Turtle phenomenon. The small print runs made these early comics and trade magazines instant collector items, and within months they were trading for over fifty times their cover price. The name "Mirage Studios" was chosen because of Eastman and Laird's lack of a professional art studio at the start of their career, before their creation made them both multi-millionaires.
Pictured left: Teenage Mutant Ninja Turtles #2 (Mirage Studios, 1984) CGC NM/MT 9.8 This edition sold for $358.50 at Heritage Auctions, September, 2012.
Mirage also published a bi-monthly companion book entitled Tales of the Teenage Mutant Ninja Turtles, featuring art by Ryan Brown and Jim Lawson, which was designed to fill in the gaps of continuity in the TMNT universe. This put the original series and Tales in the same mainstream continuity, and the two are thus canon to each other. The title's first volume was from 1987–1989, released in alternating months with the regular Eastman and Laird book. All seven issues of Volume One have been collected in trade paperback form twice, and twenty-five issues of Volume Two have been collected in trades of five issues each.
As the TMNT phenomenon proliferated to other media, Eastman and Laird would find themselves administrating an international merchandising juggernaut. However, this prevented the two creators from participating in the day-to-day work of writing and illustrating a monthly comic book. For this reason, many guest artists were invited to showcase their unique talents in the TMNT universe. The breadth of diversity found in the various short stories gave the series a disjointed, anthology-like feel. Fans stuck with the series, and what was originally intended as a one-shot became a continuing series that lasted for 104 issues spanning four separate volumes.
In June, 1996, Image Comics revived the title in what is considered "Volume 3" of the comics. It was a slightly more action-oriented TMNT series and although notable for inflicting major physical changes on the main characters, Peter Laird, co-creator of the TMNT, has said this volume is no longer in canon as he began publishing Volume 4 at Mirage Publishing. As an explanation, he offered in the pages of Volume 4's letter column: "It just didn't feel right."
Pictured right: The first-ever full artwork of the Teenage Mutant Ninja Turtles by Kevin Eastman and Peter Laird – the illustration that launched one of the most successful character franchises in history – sold for $71,700 on Friday, May 11, 2012 at Heritage Auctions – click for more details on this auction.
After taking back the series from Image Comics, Mirage Studios resumed publication of a fourth volume in December, 2001, under the simple title TMNT. After the publication of issue #28, writer Peter Laird placed the series on an eight-month hiatus to devote himself to production of the recent TMNT movie. However, after that eight months had passed Mirage's official website went on to list the series as in "indefinite hiatus". In January 2008 Mirage had finally confirmed that the series would return in May 2008. Issues 29 and 30 had a limited printing of 1,000 copies each, and were available through the official TMNT website. Although the purchase agreement with Nickelodeon allows Laird to produce up to 18 comics a year set in the original Mirage continuity, no new material has been released since the sale.
In April 2011, IDW Publishing announced that they had acquired the license to publish new collections of Mirage story lines and a new ongoing series. The first issue of the new series was release on August 24, 2011. Turtles co-creator Kevin Eastman and Tom Waltz write, with Eastman and Dan Duncan handling art chores.
Teenage Mutant Ninja Turtles Adventures was a comic book series published from August 1988 to October 1995 by Archie Comics. The initial storylines were close adaptations of the 1987 TV series, but with the fifth issue Eastman and Laird decided to hand the series over to Mirage Studios employees Ryan Brown and Stephen Murphy who immediately abandoned the animated series adaptations and took the title in a decidedly different direction with all-new original adventures.
Teenage Mutant Ninja Turtles Feature films
The Turtles have featured in four feature films. The first three, produced in the early 90s and released by New Line Cinema, feature live-action, with the Turtles played by various actors in costumes featuring animatronic heads. The first live-action film was distributed by Golden Harvest overseas, whereas the second and third films were distributed by 20th Century Fox outside North America. The fourth, released in 2007 by Warner Bros., was an all-CGI animated film, but retained continuity with the previous films.
A new feature film was to have been released on 25 December 2013 as part of the acquisition of the franchise by Viacom. It was announced on May 27, 2010 that Michael Bay's Platinum Dunes production company had landed the rights to the new film. It is expected that Bay, Bradley Fuller and Andrew Form will serve as executive producers. Ninja Turtles will be a co-production between Paramount and Nickelodeon. However, it will be a reboot film as opposed to another sequel. Reception from fans thus far has been extremely critical, particularly since Michael Bay's revelation that the Turtles will now be aliens and the statement that critical fans needed to "chill" after negative response. Fan criticism has included comments from Robbie Rist, the voice of Michelangelo from the original movie series, that Bay is "sodomizing" the original movies and causing "the rape of childhood memories."In June 2012, it was reported that Paramount had shut down production on the film and pushed its release date back to 2014.
Teenage Mutant Ninja Turtles Merchandise
Among the first licensed products to feature the Ninja Turtles was a pen and paper RPG titled Teenage Mutant Ninja Turtles & Other Strangeness, published by Palladium Books in 1985 and featuring original comics and illustrations by Eastman and Laird themselves. The game features a large list of animals, including elephants and sparrows, that are available as mutant player characters. There were several more titles in this genre, including Teenage Mutant Ninja Turtles Adventures, Truckin' Turtles, Turtles Go Hollywood, Teenage Mutant Ninja Turtles Guide to the Universe, and Transdimensional Teenage Mutant Ninja Turtles. In 1986, Dark Horse Miniatures in Boise, Idaho produced an attendant set of lead figurines; unlike later incarnations the bandanas on the store's display set were painted all black before the multicolored versions were released to help younger readers distinguish between the four characters other than their weaponry. Palladium allowed the license to lapse in 2000, in part due to declining sales stemming from the "kiddification" of the animated and live-action incarnations to that point. However, Palladium's publisher, Kevin Siembieda, has indicated a potential willingness to revisit the license given the franchise's recent moves closer to its roots.
Teenage Mutant Ninja Turtles Toys & Action Figures
During the run of the 1987 TV series, Playmates Toys produced hundreds of TMNT action figures, along with vehicles, playsets, and accessories, becoming one of the top collectibles for children. Staff artists at Northampton, Massachusetts-based Mirage Studios provided conceptual designs for many of the figures, vehicles, and playsets and creator credit can be found in the legal text printed on the back of the toy packaging. The line featured many different variants of the TMNT, such as "Farmer Mike" and "Classic Rocker Leo". In addition, Playmates produced a series of TMNT/Star Trek crossover figures, due to Playmates holding the Star Trek action figure license at the time. Playmates employed many design groups to develop looks and styles for the ongoing toy line, including Bloom Design, White Design, Pangea, Robinson-Clarke, and McHale Design. Comic reality was maintained by visual artists at each of the firms, creating a wide range of compelling styles. The writing on the packaging came predominately from Pangea and White Design. Ancillary in-pack items, like the Turtle Maps and joke books were also wildly popular. All in all, the shows were often inspired by the collaboration of all these visual and written elements coming together. The Marketing VP of Playmates, Karl Aaronian, was largely responsible for assembling the talented team of designers and writers, which in turn, helped germinate continued interest in the toy line. Never before in toy history did an action figure line have such an impact for over two decades, generating billions of dollars in licensing revenue.
The series was highly popular in the UK where, in the run-up to Christmas, the Army & Navy Store in London's Lewisham devoted its entire basement to everything Turtle, including games, videos, costumes, and other items.
Playmates continue to produce TMNT action figures based on the 2003 animated series. The 2007 film, TMNT, also gave Playmates a new source from which to make figures. And in September 2007, NECA announced that they would produce figures based on character designs from the original Mirage comics. As of April 2008 there have been toys released of the four turtles with their weapons, a piece of an interhooking platform, a can of ooze, an unmutated turtle toy, and two alternate hands. It features a detailed color/design job as well as 20 points of articulation. August 2008, NECA announced a second wave, featuring Shredder, Casey Jones, and a Foot Soldier, but the future of the NECA line is unknown with Playmates releasing 25th anniversary TMNT toys. There will also be a new TMNT toy line for the new series and classic series in 2012. Images of the new toy line and a new classic toy line have been released. There will also be a new TMNT play set released, too.