Myth & Magic collectables and Myth & Magic figurines were originally produced by The Tudor Mint. The initial collection of 12 figures first appeared in 1989 and were an instant success with shops and collectors. The range quickly grew and by the end of the first year almost forty figures had been released.
Pictured right: The Protector – The first Myth and Magic Annual Presentation Piece released in 1990 and retired in 1991. There were 8,849 produced and the model depicts Snowscale with her son.
Prior to Myth & Magic, The Tudor Mint were producing a series of silver and gilt-plated animals entitled Crystalflame. Interest in this collection was waning and the idea of a similar range based on mythology was put forward. The collection was taken over by Xystos who continued the collection to boast dragons, wizards and characters not only from the world of Myth & Magic (Methtintdour), but has also featured characters from Arthurian Legend and Tolkien's "Lord of the Rings". Xystos went into administration in September 2013 so the current position of the range is uncertain.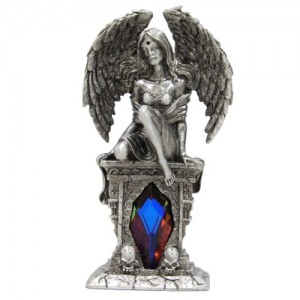 Pictured left: Mistress, the Myth & Magic Club Membership Gift for 2013.
A Myth & Magic Collectors Club began in 1990 and ran for a number of years, and has been re-introduced by Xystos. Members receive membership gifts and the opportunity to purchase members only items. Early models are especially collectable. The club also produced a bi-yearly Myth & Magic journal, The Methtintdour Times. It is uncertain whether the Myth and Magic Collectors Club will be reinstated in the near future.
Myth and Magic Price Guide and Market Report 2014
There is a lot of interest in the early figures, as well as the club and extravaganza models, however the record high prices achieved for models in the 1990s are gone. There are a number of mould variations in the range with the same piece often being produced in slightly different formats. The earlier mould variations are generally the more sought after.
With the decrease in prices on the secondary market, it is enabling collectors to fill gaps and complete collections.