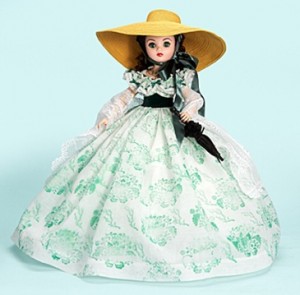 Madame Alexander Dolls have been an American tradition for over eighty years. Beatrice Alexander Behrman founded her company in 1923. The first dolls produced were cloth. Many of them represented fictional characters such as Alice in Wonderland, the Little Women and characters from the novels of Charles Dickens.
Pictured left: Twelve Oaks Scarlett O'Hara from The Gone With the Wind Collection – Cissy 21 inch doll Ltd Ed. Image Copyright Madame Alexander.
Next, the company produced dolls made of composition. In 1934, Madame Alexander received permission to make authorized Dionne Quintuplet dolls. Madame often credited the survival of her company through the Depression to the popularity of these dolls.
After reading "Gone with the Wind", Madame requested and received permission to make a Scarlett O'Hara doll. While there is some question as to exactly when the first dolls were made, there were official Scarlett O'Hara dolls by Madame Alexander advertised in the Atlanta newspapers on the day of the film's premier in 1939.
Doll production was curtailed during World War II due to shortages of supplies. Following the end of the war, Madame Alexander was one of the first doll companies to market dolls made of the new material, plastic. In 1951, 1952, 1953 and 1954, Madame Alexander was awarded the prestigious Fashion Academy Gold Medal for excellence in costuming.
Pictured right: Alice from The Alice in Wonderland Collection – Wendy 8 inch doll. Image Copyright Madame Alexander.
The 1950s have often been called the golden age of American dolls, and Madame Alexander was certainly at the forefront in the production of beautiful dolls. Many dolls familiar to collectors today, such as Cissy, Cissette, Elise, Lissy and Wendy were first introduced in the 1950s. Wendy, a tiny hard plastic doll only 8 inches tall, has continued in production for over forty years with very few changes. This doll has been dressed as a modern American child, historical figures, fictional characters and has worn native costumes of many countries. Madame Alexander sold her company in 1988.
The company again changed ownership in 1995 following a bankruptcy proceeding. Today's versions of the Little Women, Alice in Wonderland, Scarlett O'Hara and numerous other dolls continue to be produced in the same New York City factory where Madame Alexander worked her magic for so many years.
Pictured left: Little Women Meg Goes Ice Skating 8-inch Collectible Doll.
Image Copyright Madame Alexander.
Did you know that Madame Alexander initiated these concepts into the Doll making industry:
1930s, introduced the first dolls based on licensed characters from literature and the movies. Alice in Wonderland, Little Women, and Gone with the Wind were pioneering doll concepts which remain popular to this day.
1940s, the first dolls with "sleep" eyes that open and close.
1944, created the first line of patriotic dolls to honor the U.S. Armed Forces bravely fighting in World War II.
1947, utilizing new technology from DuPont™, created the first dolls made of hard plastic.
The first to create dolls in honor of living people (Queen Elizabeth in 1953, and the Dionne Quints in 1937).
1955, introduced the first full-figured fashion doll (Cissy®) wearing flawlessly designed, haute couture outfits.
Sadly, the first lady of American dolls passed away in 1990 but the company she founded continues to produce the dolls tha t made her and her company legendary.
Related Sites and Features
Rare Madame Alexander Dolls at Auction
The Madame Alexander Doll Club
Madame Alexander Convention Dolls at Auction
NOTICE – This site is not affiliated in any with the Madame Alexander Doll Company TM.
The purpose of these pages is to provide information to collectors of Madame Alexander Dolls.