Most Wade collectors know the name of Faust Lang. They know that there were a number of figurines made before the Second World War, which now cost a small fortune, that were modelled by Faust Lang. They know that to discover an authentic Wade Faust Lang figure in perfect condition at a reasonable price would be a great 'find.' So just who was Faust Lang and what is so special about his figures?
To see a figurine modelled by Faust Lang answers the second question as his models are so full of life and movement and always so very detailed. Unlike any other modeller who worked for Wade, Faust Lang modelled his figurines in wood, sometimes taking many weeks to complete a commission. In fact he never actually worked for Wade but was commissioned by them to produce his masterpieces.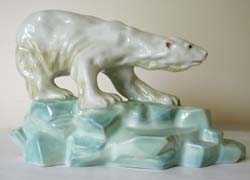 Faust Emanuel Lang was a Bavarian, born in Oberammergau in 1887, the son of Andreas Lang, a local wood carver.The beautiful town of Oberammergau is in southern Germany and probably best known for its Passion Play held there every ten years in  commemoration of the town being delivered from a plague which decimated Europe in 1632. Both Faust and his father were players in the spectacular at various times but woodcarving was in their blood and it was in this that Faust excelled.
In 1911 Faust married an English girl from Brtistol, two years his junior. They had met two years earlier when she was travelling through Europe with her mother and sister in a horse drawn caravan on an adventurous holiday. After their marriage Faust and Una spent the next twenty-two idyllic years together in Oberammergau and it was there that their only child, a son was born in 1925.
During the 1st World War which started in 1914, Faust was a medical orderly in the German army and when he came home in 1918 the years were very hard with food shortages and rampant inflation.
Faust was a keen sportsman and proficient skier whose relay team won a bronze medal at the first modern Winter Olympics held in Garmisch-Partenkirchen in 1922.
In the uncertain times of Germany in the 1930s and probably with the memories of the 1st World War still fresh in their minds, the family decided to move to England in 1934. They initially lived in Mawgan Porth near Newquay in North Cornwall moving to St Ives in 1950. Faust Lang became a British citizen in 1938.
In 1938 Faust Lang met a certain Harry Adams, a Scotsman on holiday in Mawgan Porth who had a connection with Wade. Adams recommended Faust to the company who commissioned him to carve a series of what were to become amongst the most beautiful and prestigious figurines ever produced by Wade. The figures were finished in the 'Copenhagen' style.
With the coming of the Second World War in September 1939, all giftware production was halted at the Wade factories and Faust Lang's short but productive connection ended. In fact he had already completed a small bust of the thirties actress and singer Gracie Fields which although blocked and samples had been made, never went into production.Faust Lang joined the thriving artist's colony in St Ives in 1950 and spent the rest of his life in England. He died in 1973 and is buried in St Ives.
For more details and images please visit CS Collectables