Manuel Cipriano Gomes Mafra (1829-1905) was one of the foremost Portuguese ceramists of the 19th century who developed a vast array of work influenced by the natural world. Manuel Mafra's pottery work, marked by naturalism, was strongly influenced by the French 16th century engineer, craftsman and potter Bernard Palissy .
Palissy was famed for his figulines rustiques (rusticware), or decorative faience fired in a high-relief pattern inspired by nature, and especially pond life: reptiles, insects, vegetation, flowers and fish. Palissy's work apparently often used moulded from casts taken of dead specimens.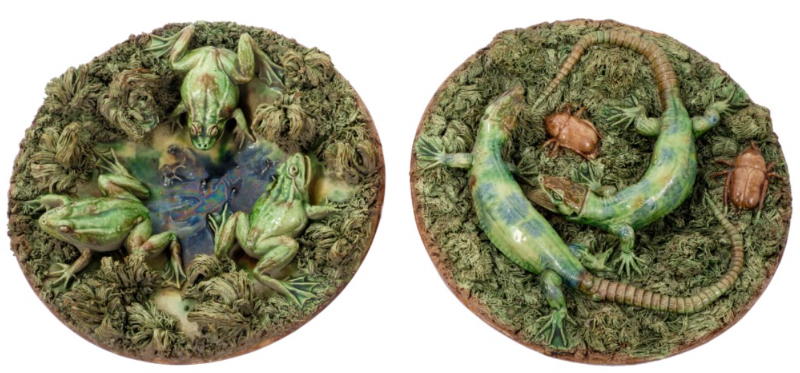 The tradition Mafra developed of Portuguese Palissy-style ceramics became an important movement in the decorative arts in the second half of the 19th Century.
Mafra moved to Caldas de Rainha to work at the famed Maria dos Cacos factory. He was later to run the same factory from 1853 till his death in 1905. The town was to become a magnet for other ceramicists and it became the centre for Portuguese Palissy Ware. The factory produced faience wares and later
Did you know?
Mafra was actually christened Manuel Cipriano Gomes and took the name Mafra, the county of his origin in 1853
19th Century copies of Palissy's work were made in both faience and in majolica, a 19th Century version of faience with an improved lead-based glaze.
Reference
Manuel Mafra at the Met Museum
A Concise Guide to Caldas Ceramics