With the forthcoming TCM Hollywood Cool auction at Bonhams and the sale of items associated with Happy Days and The Fonz (one of the most merchandised characters of the 1970s), we thought we would take a look at some of collectibles released over the years based on the Happy Days series and characters.
Happy Days was an American sitcom television series portraying an idealistic vision of life in the 1950s and early 1960s Milwaukee, Wisconsin. Happy Days was created by by Garry Marshall and was one of the most successful of the 1970s running on the ABC network from January 15 1974 to July 19 1984. A total of 255 half-hour episodes were made spanning 11 seasons.
Initially focused on the character Richie Cunningham played by Ron Howard, his family and friends and all their experiences it was a moderate ratings success but began to falter during its second season. The show took a change of direction and began emphasizing comedy and after spotlighting the previously minor character of Fonzie, a "cool" biker and high school dropout the show never looked back and became the number-one program in television in 1976–1977. The show was a hit internationally especially in the UK.
The main cast included: Henry Winkler (Arthur 'The Fonz' Fonzarelli), Tom Bosley (Howard Cunningham), Marion Ross (Marion Cunningham), Ron Howard (Richie Cunningham), Erin Moran (Joanie Cunningham), Anson Williams (Warren 'Potsie' Weber), Donny Most (Ralph Malph) and Chachi (Scott Baio).
The Fonz – Fonzie became one of the most merchandised characters of the 1970s
Arthur Fonzarelli, a.k.a. The Fonz or Fonzie – Initially a minor character, he was a hugely popular breakout character and was made a series regular. Fonzarelli's "Fonzie" nickname and comeback phrase, "Sit on it," were created by the show's producer, Bob Brunner. Known for being especially cool and for his catchphrases "(H)eyyyy!" and "Whoa!" His coolness gave him special powers, such as making machinery (such as Arnold's jukebox and other vending machines, electric lights, and car engines) function by pounding on them with his fist, or getting the attention of girls by snapping his fingers. His parents abandoned him as a child and his grandmother raised him from the age of four. (Source: Wikipedia)
The Mego Happy Days carded 8″ action figures also included Richie, Potsy and Ralph. Mego also released Fonzie's Jalopy so the gang were able to drive around.

Tuscany Studios created a chalkware The Fonz figure. We are not too sure on the likeness but it is a very rare and unusual item to have.
More Happy Days Collectibles
Funko released five Funko Pop! models in June 2021 which included: 1124 Fonzie, 1125 Richie, 1126 Arnold, 1127 Joanie and 1128 Chachi.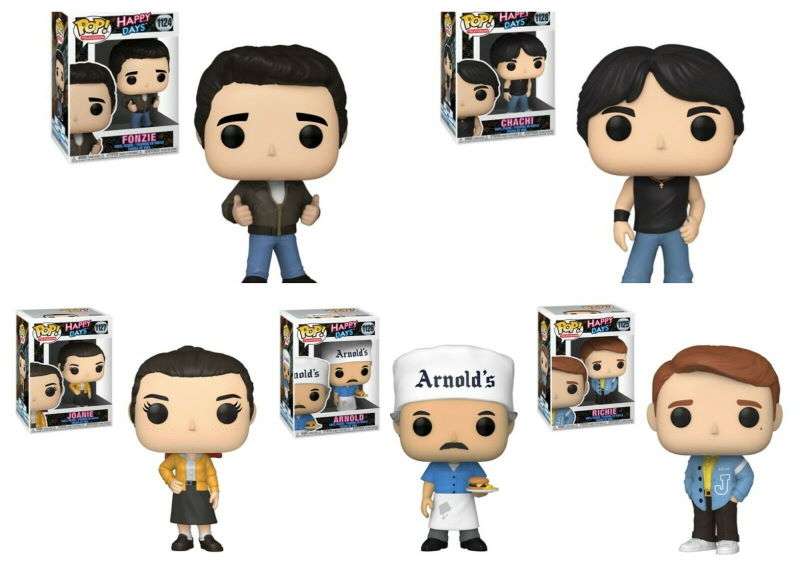 Did you know?
Happy Days spawned a number of spin-off TV series including Laverne & Shirley, Joanie Loves Chachi and Mork & Mindy.
Related
Mork and Mindy Collectibles