If you combine Disney, ENESCO and talented artist Miss Mindy you get a wonderful and unique re-imagining of Disney with The World of Miss Mindy. The collection has definitely struck a chord here at WCN and everybody loves Miss Mindy's take on Belle, Cogsworth and Lumiere.
The launch collection of The World of Miss Mindy comprises of twelve figurines in differing sizes, the larger figurines have diorama scenes within the characters dresses that light up to add to their whimsical charm. Three classic Disney films are represented in the offering, Sleeping Beauty, Snow White and Beauty and the Beast along with the Cheshire Cat, Mickey & Minnie and Tinker Bell.
Miss Mindy works in many mediums and her  'Cartoon Folk Art' ranges from fluid ink drawings and paintings, to her fabulously handcrafted sculptures in our launch collection. She plays with the characters' lines — exaggerating their head shapes and enlarging the expressive eyes, whilst making other features more petite.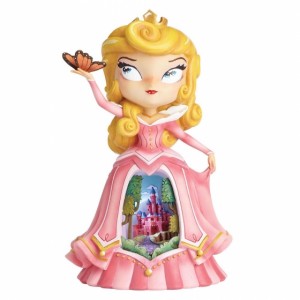 Miss Mindy has been a prolific professional artist for many years. She paints commissions for her private collectors, and showcase her paintings and sculpture, whilst Character designing for animation studios like Disney, WildBrain, and Warner Brothers. She's directed her own cartoon with Nickelodeon Animation, and has some treats in store for the future! Aside from Animation, Miss Mindy also creates illustration and ideas for Mattel, Hard Rock café, Zippo, and many others. She has also written and illustrated two books with Baby Tattoo Books Publishing and recently designed her own line of vinyl toys with Disney Vinylmation.
For more information visit ENESCO or https://missmindy.com