This is an ideal time to begin collecting pop star dolls, because at the moment the shops seem to be full of them; stars include Steps, Christina Aguilera, Britney Spears, Five and S-Club 7, but perhaps the most notable dolls of recent times have been the Spice Girls.
These certainly hit the headlines when they were first produced in 1997 because they were expensive when compared to Barbie and as most girls wanted the set of five, parents were faced with a bill of around a hundred pounds.
Nevertheless, the dolls sold in large quantities at first, though sadly they soon became relegated to the bargain section of toy-stores, where they might still be found. Such is the price of fame!
These Spice Girls dolls were nicely modelled and bore a reasonable likeness to Scary, Posh, Sporty, Ginger and Baby, aka Mel B, Victoria, Mel C, Geri and Emma. Manufactured by Galoob, the dolls appeared in several sets.
The first set, 'Girl Power', featured Geri in her notorious Union Flag dress. Emma wore a pink silky mini, Victoria a black mini, Mel C a sporty black jogging suit and Mel B leopard print pants and matching crop top. Each doll had an accessory such as a dog-shaped bag for Emma and a handbag for Victoria.
The most interesting thing about the Spice Girls range is the way they kept up with the style of the group – the most obvious being, of course, Geri's sudden departure, which meant that she was swiftly dispatched from future sets! However, she featured in the 'On Tour' set and also in 'Spice It Up' (in which she wore a super long white dress emblazoned with the words 'Girl Power'!)
The later 'On Stage' set, in which the girls wore velvet trouser suits was Geri-free! With so many of them about, it is unlikely that they will ever change hands for mega-prices, but if you're collecting for pleasure, not for investment, then these well-made dolls will make a great display.
In the 1980s, sets of Take That dolls were issued. The five lads, Mark, Jason, Howard, Gary and Robbie were casually dressed in jackets, jerkins and jeans. Made by Vivid Imaginations, these are now beginning to become collectable, changing hands for around £20 or so, if mint and boxed. (It's best to keep these character dolls packaged and unplayed with.) A few years later came Boyzone and already these dolls are sought after; Shane, Stephen, Michael, Ronan and Keith also wore casual styles in leather or denim.
Look out too for Vivid Imaginations' 1997 Peter Andre doll. Dressed in black trousers and white T-shirt, this bore a super likeness to the singer.
Dolls from the world of pop are nothing new – in the 1960s there were Beatles dolls, Sonny and Cher and Elvis. The Seventies gave us the very collectable 1978 Abba set, made by Matchbox, which featured Frida, Benny, Anna and Bjorn dressed in typical stage clothes – Frida and Anna in a short white minis and boots, Benny in a gold jacket and white satin flares and Bjorn in a blue satin shirt under white bib-top dungarees. Extra outfits could be purchased separately.
T
een idol Donny Osmond and his sister Marie were made by Mattel, and made an attractive pair – Donny wore a purple and fuchsia jumpsuit with a silver belt, while Marie's tiered dress was in similar shades.
Boy George, too, was available as a soft-bodied doll, complete with typical hat and long beribboned locks, and is very collectable today. Recently, a fabulous collectors series by Mattel featured Elvis Presley, and he was also Barbie's hero in the 'Barbie loves Elvis' set. The 'Barbie loves Frankie', set also by Mattel, would be great for fans of Frank Sinatra.
Beatles figurines have recently been issued by McFarlane Toys commemorating the Yellow Submarine film, and also the Sergeant Pepper LP – though not strictly dolls, they would still be at home in a pop collection.
In 1995, Triumph International issued an excellent Michael Jackson doll. Not only did this bear a striking resemblance to the star, it boasted a musical chip which played 'Black and White' (extremely loudly!) Michael was dressed in black trousers, white jacket and white top.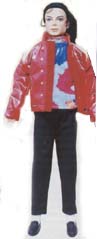 An additional clothing set consisting of a super red leather jacket, black trousers and vividly-coloured T-shirt was also available. This too contained a musical chip, which, when plugged into the doll played 'Beat It'. An earlier Michael Jackson doll, by MU Productions, wearing a red leather suit, is today keenly sought after.
The current wave of dolls mentioned earlier include an excellent Britney Spears series, in which she wears typical outfits such as her schoolgirl gear, or a smart white trouser suit. Made by Play Along Toys, these are well-modelled.
In addition there are deluxe sets which contains CDs, as well as Britney dressed in trendy outfits such as a fur-trimmed pink dress or a pink top and tartan skirt. Vivid Imaginations have produced a singing Britney, also dressed in her schooolgirl get-up of red crop-top, white blouse, short navy skirt, grey cardi and long grey socks. You can get other outfits too, complete with slot-in sound packs.
Steps dolls, again by Vivid Imaginations, are attractive and can be obtained as ordinary fashion-type dolls, or containing a 'real working Boom Box' which plays 'Tragedy'. The dolls bear excellent likenesses to Faye, Claire, Lee, H and Lisa and are dressed in Steps 'uniform' of white tops and trousers.
The Christina Aguilera doll by Vivid Imaginations can also be obtained in both singing and non-singing versions. This pretty doll wears such outfits as denim jeans and matching jacket over a brown suede top, or red pvc trousers and a blue, silver- bordered top.
Hasbro's S-Club 7 – Jo, Rachel, Tina and Hannah – can be obtained in various brightly-coloured trendy outfits, and Vivid Imaginations' Five dolls – Abs, Ritchie, Scott, Sean and J – are also available at the moment from toy stores. No doubt all of these will become collectables of the future, especially if you can resist the temptation to open up the boxes. Many are so affordable, that you could buy two – one to put away, the other to play with!
Tastes in music change so quickly that a collection of character dolls from the world of popular music would be an interesting insight at modern culture, as well as being attractive. Who knows? You could end up with your very own private rock concert.