We are not the only ones who celebrate Christmas – dolls do, too!
Often, manufacturers issue their regular lines festively dressed in Christmas colours of red and green, or maybe silver, gold or white. They trim the costumes with white 'fur', tinsel, glitter or sparkly sequins – anything to make the doll look more Christmassy. Sometimes a Christmas special is dressed as a fairy, Santa or a character from a pantomime or fairy tale. Usually these dolls are made in limited numbers and, because they are sold for such a short period, eventually become very collectable.
Teen dolls are often issued as Christmas Specials, such as the delightful Festive Sindy issued by Hasbro in 1997. She was dressed in a gold-flecked red gown with white fur trim, her hair covered by a fur-edged hood.  More recently, Vivid Imaginations produced a Christmas Sindy, only available through Argos. Sindy was dressed in a short red Santa-style mini-dress, worn with a cap and cape, all edged in white fur. This doll is sure to become a future collectable.
Barbie features in the 'Happy Holidays' collection which began in 1988, in a variety of gowns such as the full-skirted black & silver velvet ballgown worn with a dramatic cerise satin stole, dating from 1998. Her fabulous gowns use luxury fabrics in shades of green, scarlet, gold or white. The smaller dolls in the Barbie range, such as Maura, also often appear in festive mood. A couple of years ago, Maura was dressed as Winter in a pretty white and ice-blue dress scattered with snowflakes, and sporting a fetching pair of teddy earmuffs.
Occasionally, dolls are issued in Christmas play sets. A few years ago the enchanting Madeline dolls, based on a character originally created by Ludwig Bemelmans in the 1930s, included a festive set in their range. Madeline is a pupil at a Parisienne school run by nuns, and dolls representing her and her friends were made by Eden in the 1990s, but have now been taken over by Learning Curve. The Madeline Christmas Gift set comprised a seven and a half inch tall doll wearing a santa-type outfit of a red dress edged with white fur and a matching hat, white lacy socks and black shoes. She had a felt Christmas tree and a tartan stocking. Learning Curve introduced large Holiday Madelines – soft cloth dolls dressed in red or green Christmas outfits.
The German company, Zapf, makers of Baby Born, Annabell and Chou Chou, produce Christmas outfits for their dolls each year. Recent BabyBorn festive get-ups have included a dark red velour dress worn over Christmas-patterned tights, finished off with a jaunty, star-trimmed velour hat, a red long-sleeved dress with a matching flower-trimmed head band, and an unusual white and blue creation.
A Christmas play set was also amongst the recently-discontinued Zapf Baby Born Miniworld series of dolls. This tiny baby doll, just four and a half inches tall, was dressed in a sweet red fleecy outfit and white bib embroidered with a Christmas motif. She wa s seated on a soft red beanbag with her teddy, beside a Christmas tree, and her box was designed to look like a festively-decorated nursery.  Until recently, Zapf made excellent designer dolls, and amongst them was Rolanda Heimer's Siggi, a nineteen inch tall baby with blonde hair. He was dressed in fleecy red hooded jacket with a knitted clown motif, and beige cord trousers. He came with a cd of Christmas carols.
Anne Geddes 'Baby Santa' was issued a few years ago and is now quite difficult to find. Anne is famous for her photographs of  babies dressed as animals, flowers and insects and a whole range of dolls based on the photos were made by Unimax, including rabbits, bears, butterflies and sunflowers. Baby Santa is a smiling, slightly podgy baby doll wearing a red Santa outfit. The box bears photographs of the real babies on which the doll was modelled.  Woolworths often produce dolls in Christmas themed outfits, recently they were selling Christmas Holly, under their Chad Valley label, a sweet-faced sixteen inch baby dressed in a red dress, Santa hat, green bag and with adorable crocheted red shoes.
Cabbage Patch Kids have featured in several Christmas issues over the years, including a 1990s Special Edition set of Holiday Babies by Mattel. Dressed in various outfits, such as a red needlecord dress trimmed with lace, a delightful white satin dress with a net overlay sprinkled with gold stars, or green corduroy shorts and a red tartan waistcoat, these are an excellent addition to a festive collection. Mattel also produced Christmas Cabbage Patch dolls in their Garden Fairies series, including some Wal-Mart exclusives. Poinsettia, Winter Holly and Winter Lily were obtainable in the UK, but the Wal-Mart versions were sold in the US, so aren't often seen in Britain. These sweet dolls are 'Holiday Scented'!
Soft dolls by companies such as Ty and JellyCat are often found, and many stores and supermarkets sell Christmas specials, such as the cloth dolls sometimes sold by Tesco at Christmas. Ty's Beanie-Boppers, with  names such as Jolly Janie, Holiday Heidi, Merry Margaret and Christmas Carol, wear festive outfits. Carol has a green long-pile jacket over a gold-spotted red velour mini-dress trimmed with long-pile 'fur' and thigh-length boots. Her blonde hair is crimped and curled, and she has a Santa hat to match her dress. A similar range are the smiley eight inch character dolls from Jellycat, such as Princess Icecapade, obviously ready for the winter freeze with her ice-skates, and Holly Blooming Babe (wearing a holly-leaf skirt with a red berry belt).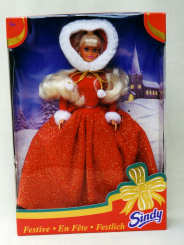 Toys 'R' Us have featured Christmas specials in their line of eleven and a half inch Jessica teen dolls. She has appeared in a long red gown with gold panels and a white fur cape, or a sophisticated white satin dress with a black bodice and stole. Vivid Imaginations have produced Holiday Bratz dolls, in both large and the 'Baby Bratz' versions, dressed in beautiful, frothy ballgowns.
Disney Christmas specials are popular, made by companies such as Mattel who issued some lovely Princesses dressed for Winter a few years ago. They included Cinderella in ivory white satin with gold ribbons, Belle from Beauty and the Beast in a pink fur-trimmed cape, and a set of mini-dolls which could double as tree-hangers. Even Buzz Light Year, the spaceman from 'Toy Story' went festive in the late 1990s. Christmas Buzz Holiday Hero is silver with a holly-green trim and packed in a blue and silver Box. He says several festive phrases, such as 'To the North Pole and beyond,' and 'This is Buzz Light Year, come in Rudolph!'
Many manufacturers issue dolls for Christmas and it's impossible to mention them all. US companies are especially keen on celebrating the season, and festive specials can often be found amongst popular lines such as Ginny and Madame Alexander, though they are difficult to obtain in the UK. The 2003 Christmas Ginny was beautifully dressed in burgundy satin with a wreath of matching roses in her hair. She carried a wooden nutcracker doll, and in 2001, the Madame Alexander company made a cute little ice-skater in a swirly red skirt, as well as a 'Holiday Ballerina' in white and a clutch of feathery-winged angels. They have also featured a Nativity Set, complete with a stable, Wise Men and shepherds, while Effanbee produced an adorable Kewpie dressed as Santa, with plenty of white fur, gold trim and wearing a pair of black boots.
Modern porcelain manufacturers such as Leonardo,  Alberon, Knightsbridge issue dolls in various Christmas guises, while even paper dolls get into the act at Christmas; Dolly Dingle, the delightful 1920s creation by Grace Drayton, was re-published recently and amongst the sheets was a festive set, perfect to play with when you're too full of pud to do anything energetic! Often, you come across dolls, both old and new, which have been home-dressed in Christmas outfits. Usually these will be much cheaper than a factory-dressed doll, yet the garments will be just as pretty and it's nice to know that you have a one-off dressed-doll.
Fairies are traditionally linked with the British Christmas, and old plastic fairy dolls by makers such as Roddy, are still quite easy to obtain. At one time every Christmas tree in this country sported a fairy, but nowadays an angel or a star is the norm. It is possible to buy exquisite old bisque fairies but these are very expensive. One of the most delightful bisque dolls from recent years is the Christmas Tree Fairy, made in porcelain by Alberon, and based on the 1930s Flower Fairy illustrations by Cicely Mary Barker. Standing 15 inches high, dressed in pearly iridescent fabric, this fairy is rather large for the average tree but would make a perfect table-centre. If you're looking for something smaller, the dainty little Hornby Christmas Tree Fairy, from their 1980s Flower Fairies series, is still widely available on the internet and at doll fairs.
A very special addition to a Christmas collection would be the Baby Jesus doll, issued in 1958 by Ideal. Made from vinyl, he came in a presentation book-shaped box called 'The Most Wonderful Story', with a colourful text and stand-up card figures. Not easy to find today, he makes the perfect reminder of just why we are celebrating Christmas.