Charisma Introduces Kewpie® With Love for 2008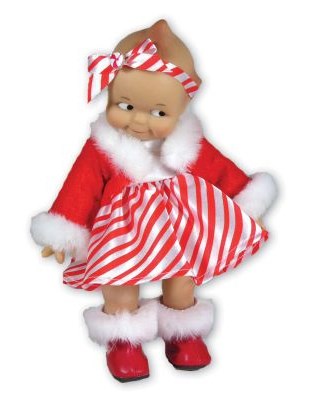 In response to the steady increase in the figurine market, Charisma is pleased to reintroduce an American treasure. In February 2008, Charisma introduces "Kewpie Korner", a delightful collection of those endearing cherubic fine bisque porcelain figurines designed to touch the hearts of people of all ages.
Pictured left: Peppermint Twist Kewpie from Charisma Brands
Vice President of Marketing and Product Development, Peggy Vicioso explains, "The "Kewpie Korner" collection has been developed specifically for gift giving. Gift giving has increased 13.5% in recent years and shoppers have been driven to buy "occasion" specific gifts such as Birthday, Anniversary and Friendship. It is important retailers market to the gift-giving consumer all year long, not just in the fourth quarter." Few characters have made an impact on American life like the famous KEWPIE®. Created in 1909 by Rose O'Neill, Kewpie® first appeared as magazine illustrations and in advertisements. Its greatest impact was achieved with the introduction of the porcelain bisque dolls and figurines, which were first sold in 1913. "We're excited to continue this piece of American history with affordable sentiment-driven irresistible figurines that make a perfect gift for anyone. These timeless fine bisque porcelain figures were specifically designed for many gift-giving occasions with a manufacturer's suggested retail selling price of $12:95 – $29.95", adds Vicioso.
The initial collection of 15 figurines includes everything from special occasion pieces and sweet wishes for new babies, to cheerful thoughts for a friend. "Sweet Dreams & Stardust" offers a selection of sleeping babies, nighttime prayers and wishes to the super star in your life. "Hugs, Kisses & Birthday Wishes" include a bride and groom, expressions of love with a key to your heart, and birthday wishes. "Happy Thoughts From Me to You" brings flowers from a friend and man's best friend, his dog. This adorable collection of 3" figurines is available to retailers nationwide in early Summer 2008.
"We're so pleased to be reintroducing this delightful figurine character this year. We're certain that consumers, young and old, will fall in love with these ideal all-occasion gifts." concludes Vicioso.
Related Sites and Features
Kewpie Dolls Background