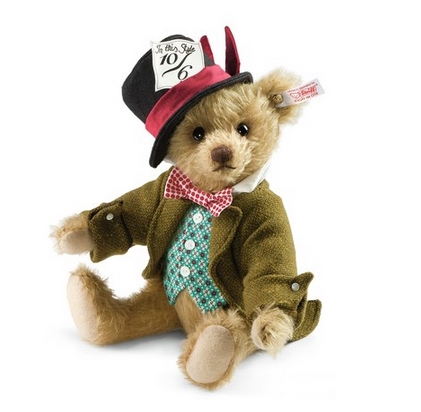 Due for delivery in May is Steiff's wonderful interpretation of The Mad Hatter from the Lewis Carroll's 'Alice in Wonderland' .
True fans of "Alice in Wonderland" recognize him as Tarrant Hightopp – but he's best known as "The Mad Hatter" in the classic childhood tale. Steiff has brought this memorable character to life with exacting detail in a special limited edition Teddy bear.
The Steiff Mad Hatter has a handmade costume which features a cuffed, green frock coat, and a checked waistcoat of green, red, and white. As finishing touches, he wears a red spotted bowtie and a debonair top hat. The hat is accented with a red silk band and the distinctive price tag as described in the novel.
The Mad Hatter is a Limited Edition and is available worldwide.
Steiff Teddy Bears at Auction