Lego have released several new Star Wars building sets ahead based on the upcoming release of Solo A Star Wars Story. The Han Solo Lego models and sets include spaceships, land speeders and buildable characters from the film. Our highlights from the collection are the new Kessel Run Millennium Falcon, Solo's Landspeeder and the Hans Solo models. If the film proves successful there may be some collectable sets in the collection.
Kessel Run Millennium Falcon
Lego fans will welcome a new Millennium Falcon, the Kessel Run Millennium Falcon – This LEGO brick version of the iconic Corellian freighter from the Han Solo movie features a 2-minifigure cockpit with detachable canopy, 2 spring-loaded shooters, sensor dish, ramp, rotating top and bottom laser turrets with 2 gunner seats, plus a detachable escape craft. It features opening hull plates for easy access to the detailed interior, which includes a cargo area with couch and Dejarik hologame table, bar, bunk, missile storage compartment, and a buildable hyperdrive with repair tools. Also includes 6 minifigures and a DD-BD droid.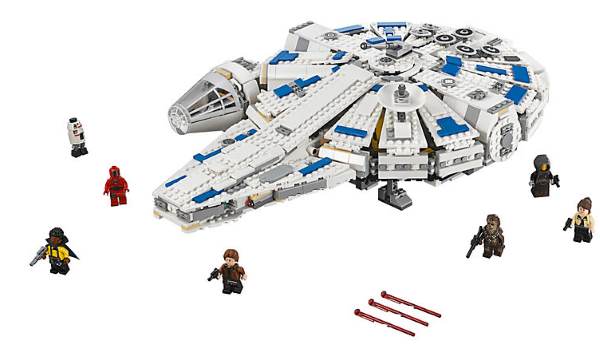 Han Solo's Landspeeder
Han Solo's Landspeeder features an open 2-minifigure cockpit, opening hood with storage compartment, removable engine, rear storage compartment with secret cargo, hidden wheels for a hover effect and 2 spring-loaded shooters, this action-packed Star Wars toy also includes a Corellian Hound figure for Han and Qi'ra to battle.

Han Solo buildable figure
The Han Solo buildable figure features a large blaster weapon with spring-loaded shooter and hip-mounted, detachable blaster pistol.


For more information on this Lego collection click here.