One of the finest Dinky Toy Collections sold in recent years went under the hammer on September 6th at Vectis Auction. The collection consisted of 700 lots of British Dinky cars, commercials, buses and military vehicles gatehered over 30 years by collector Steve Bonney. Overall the sale achieved a very healthy £180,000 showing that quality and rare Dinky items are still demanding very high prices.
Review of Selected Dinky Prices Achieved
Perhaps in expectation of things to come Lot 1 a Dinky No.14C Coventry Climax Fork Lift Truck which was estimated at just £200 – £240 and which opened at £380, soon saw furious bidding to finally sell at over double its estimate, at £600 (hammer price plus premium).
Bidding continued in the room and on the internet and many buyers joined the auction via telephone, eager to listen in to the sale and see how the bidding was going. The first lot to achieve four figures (without commission) was Lot 63, a Dinky No.413 Austin covered wagon, this harder to find colour variation sold for £1,440 to a commission bidder.
In fact there were 18 lots which achieved four-figure values; including the star of the show, Lot 146 the Dinky No.505 Foden (1st Type) 8-wheel flat truck with chains. Although not reaching world record prices this time around, the model, which was described as a superb example, sold at the top of its estimate for £5,760.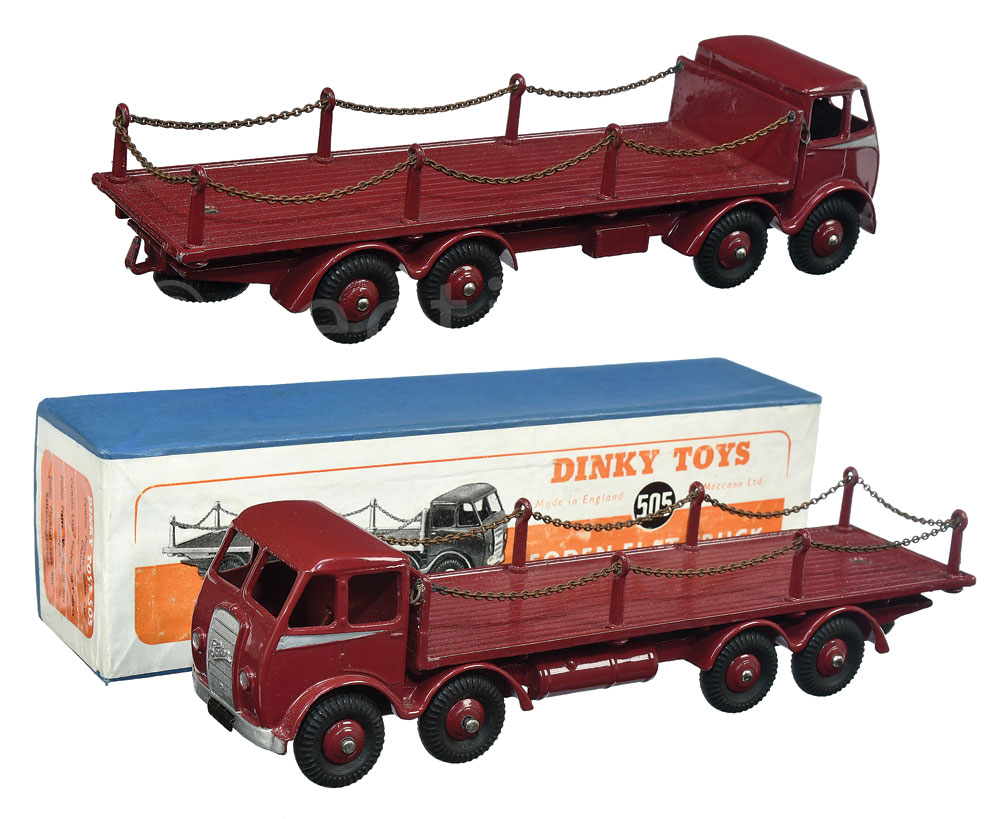 Another highly sought after lot, a rare promotional Dinky No. 944, (Lot 216) Leyland Octopus 8-wheel "Sweeteners for Industry" Tanker sold to a commission bid for its top estimate at £5,280.
Not surprisingly, many of the lots picked out as our highlights before the sale achieved the top end of their auction estimate and higher. However there were also a few underdogs, which turned out to have their day. Lot 199, a beautiful example of the Dinky No.923 Big Bedford "Heinz 57 Varieties" van smashed its £260-£320 estimate to sell to a telephone bidder for£3,120!
An unboxed Dinky No.39b Oldsmobile achieved £480, over four times its top estimate of £70-£100 (lot 610) and a Dinky No.171 Hudson Commodore Sedan in two-tone turquoise and red sold in the room for over five times its £110-£130 estimate, reaching £696 (Lot 422).
For more information visit Vectis.co.uk