Iconic Shirley Temple Polka Dot Dress sets record selling for $75,000 at Theriaults Love, Shirley Temple auction.
Items from the Love, Shirley Temple have been on tour for some weeks generating a great deal of interest in the over 500 lots of items from the personal childhood collection of Shirley Temple, comprising over 500 costumes, dolls, playthings and memorabilia from 1928-1940.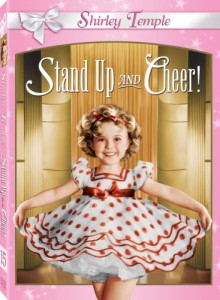 Pictured: Shirley Temple's iconic red polka dot dress from the film Stand Up and Cheer – Of crisp organdy printed with large red polka dots, the puff sleeve dress is edged with red ribbon, has a double layer skirt with wavy-shaped hem, and is underlaid with a triple layer of petticoats, each layer with multiple rows of ruffles. A red sash and bow is at the waist, and lace-edged satin panties are included. Generally excellent condition. Included with the dress is a framed 11″ x 14″ vintage photograph of Shirley wearing the dress, with her childhood autograph in green ink "Love Shirley Temple". This dress was worn by Shirley Temple in her 1934 iconic break-out performance "Baby Take a Bow" in the Fox film "Stand Up and Cheer". It was in this film that the young star, despite not having a leading performance role, became an overnight sensation.

There was frenzied interest in the The Little Theatre in Kansas City when the items finally went to auction with one of the highlights being the iconic red polka dot dress worn by Shirley Temple in the film Stand Up and Cheer. The hammer finally went down at $75,000 against a pre-sale estimate of $20,000.
For more information visit theriaults.com