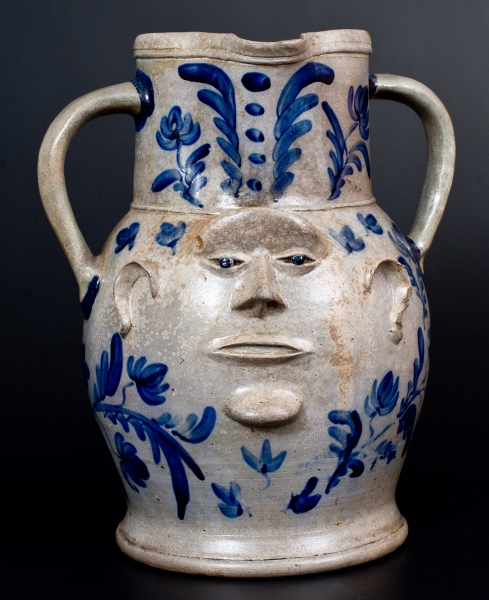 A face vessel attributed to Elisha B. Hyssong is one of the many highlights of Crocker Farm's upcoming American Stoneware & Redware Auction on March 25th. The auction includes over 500 lots with a preview on the 24th from 1pm-6pm.
Highlights include:
Extremely Important Monumental Stoneware Two-Sided Face Pitcher att. Huntingdon County, PA – Estimate: $50,000-$70,000 Important and Probably Unique Oversized Stoneware Two-Sided Face Pitcher with Profuse Cobalt Floral Decoration, attributed to Elisha B. Hyssong, Cassville, PA, circa 1850, ovoid-bodied pitcher of four-and-a-half-gallon capacity with footed base, tooled rim, and pinched pouring spouts on front and reverse; decorated on both sides with a hand-modeled and applied clay face featuring an open mouth, eyes with balled-clay pupils, pointed nose with carved nostrils, ears, and distinctive semi-lunate forehead.
Important Remmey, Philadelphia 1874 Incised Birds Presentation Pitcher – Estimate: $10,000-$15,000. Very Rare and Fine Stoneware Presentation Pitcher with Incised Bird Decoration, Inscribed "Jonah Knight / Novbr 18th 1874″, attributed to Henry Harrison Remmey or Richard Clinton Remmey, Philadelphia, PA, 1874, small-sized pitcher with vase-like form, featuring a footed base, bulbous midsection, flared rim, and spurred handle, the front and side featuring an incised and cobalt-highlighted design of a bird on a flowering branch. Decorations include incised details to the leaves, flower blossoms, and birds.
Exceptional Folk Art Face Jug, Edgefield, SC, circa 1845-60 – Estimate: $20,000-$30,000 Rare and Important Alkaline-Glazed Stoneware Face Jug with Kaolin Eyes and Teeth, Edgefield, SC origin, circa 1845-1860, ovoid jug with semi-squared spout, the front decorated with a hand-modeled and applied clay face including a large mouth with kaolin teeth, pronounced nose with depressed nostrils, single curving eyebrow, large ears, and pierced eyes set into wide lids, brushed with kaolin slip. Surface covered in an appealing, light-green alkaline glaze over a light, buff-colored clay ground.
Visit http://www.crockerfarm.com for more details